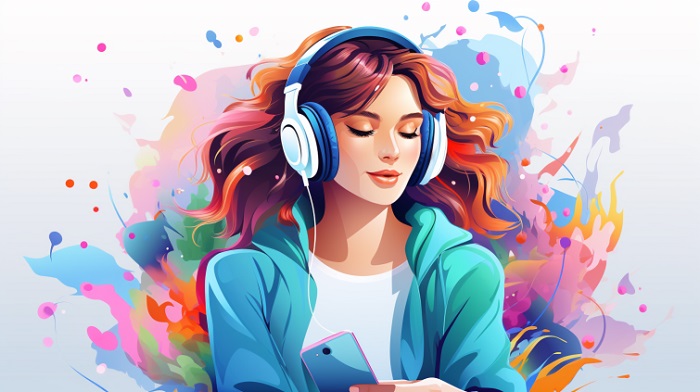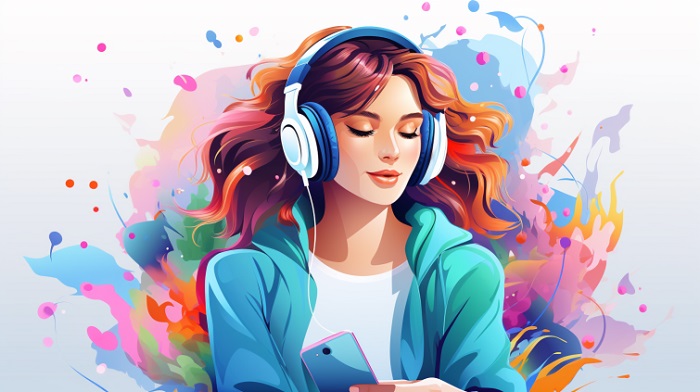 Spotify stream is important for singers who want to become an artist on Spotify because Spotify created a platform that they calculate Spotify artist revenue per stream.
All in all, artists can try some methods to boost their Spotify streams like pitching their songs to Spotify playlists and sharing Spotify playlists or using Spotify ads in order to increase their income.

Because of that, subjects like "how Spotify counts artist streams & how Spotify pay the artist and calculate royalties, how Spotify update streams and why Spotify streams have not been updated in days" are important for artists.
I searched about these questions, you can find the answer of them in the following article.
In this article you will find:
Did you know that you can earn money from Spotify as an artist? When you release a song on Spotify as an artist, Spotify starts counting the number of your song's streams and then will pay you money for each stream.
Spotify Streams Counter
Spotify has a special policy for counting the number of streams. A track needs to be played for at least thirty seconds to Spotify counts it as a stream. Listener can put the track on repeat, or click on it again, if the listener plays the track more than 30 seconds every time, it will be counted as a stream. Now you may think what happens to the downloaded tracks by the offline users. Offline users need to go online at least every 30 days to keep their downloaded music. When they go online, Spotify counts the number of times they play a track.
If you want to see how many times a song has been played on Spotify, you can simply follow the steps below:
Next to each track there is a three-dot sign. Click or tap on it.
A drop-down menu will open.
Select Go to album from the list.
In the album, the streaming numbers of the track and other tracks in that album will be shown.
Look at the picture below, I have marked the plays number of the track: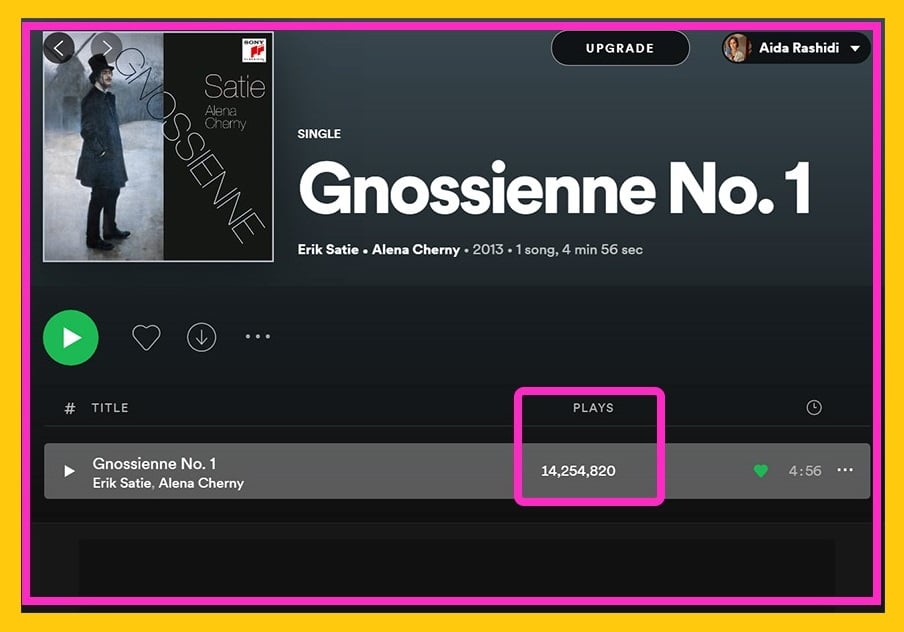 Spotify Streams Payment
When you want to release music on Spotify, you need to work with a distributor and the money you earn from Spotify streams depends on the contract you have with the distributor and types of listeners you have.
Normally, Spotify pays in a range from $.003 to $.005 for each stream. It means that a track needs about 300 streams to make a dollar.
Spotify pays to artists through their distributor. This is called the recording royalties. There is another type of royalties on Spotify named the publishing royalties in which songwriters and owners of the track are being paid from Spotify.
Note that, streams from all types of Spotify users, premium and free users, are counted for the royalties.
How Spotify Calculates the Royalties
Spotify pays the net earnings to rightsholders. To calculate the net earnings, Spotify subtracts the credit card fees, taxes, and other things such as sales commissions from the money it collects from premium fees and ads.
Spotify counts the total number of streams in a month and then calculates the revenue. According to the artists' contract with distributors and types of listeners they have, the money they earn will vary.
As I mentioned earlier, Spotify calculates and pays the revenue to the rightsholders every month, but when the artists' contribution is paid depends on their contract with distributors. Spotify itself claims that they pay about two-third of each dollar they earn to the rightsholders and the money that each artist receives from the distributor depends on their agreement and Spotify does not have any control on it.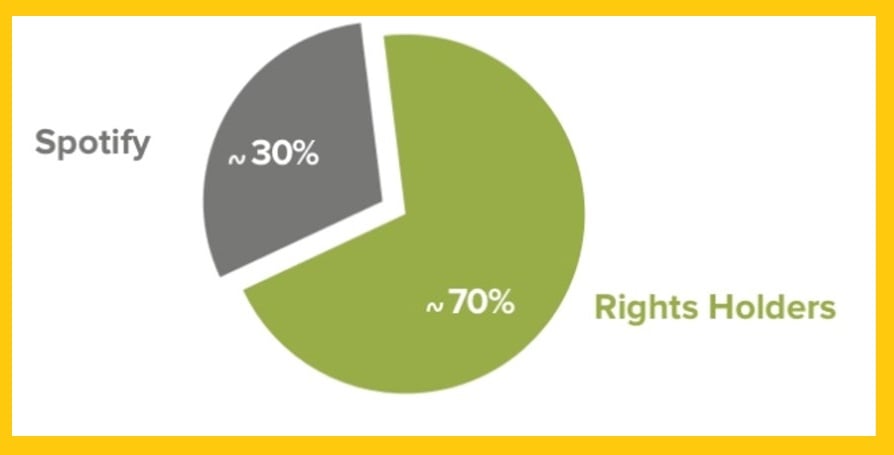 How Spotify Updates Streams
One of the main concerns of the artists who are new to the Spotify platform is the Spotify streaming updates, specially, when it comes to the offline users.
Note that Spotify offline users need to online at least every month (30 days) in order to keep their downloaded music. When an offline user goes online on Spotify, their number of plays and streams are being counted.
You might think that Spotify counts the number of offline streams every month, but actually it happens every time at a specific time (legends say the update time is at 3PM EST). It means that Spotify counts the number of streams on a daily basis no matter you go online every day or every month as a premium user.
Spotify also has a live stream count for those who recently released a song on Spotify. When an artist releases a track on Spotify, they can see their number of plays updating every 2 seconds. This will continue for 7 days and after that the real-time stats will not work, so the artist can check the number of streams every day.
Also, if your new released song has a rush on streaming, the real-time stream counter may not show the numbers accurately and you need to wait a little bit more, or a day to see your actual number of plays.
Spotify Streams Has Been Not Updated in Days.
As I was searching about Spotify stream updating process, I noticed that some artists had faced a problem in which their streams had not updated for more than a day. I became curious about this problem and I realized that this problem may happen but not that often. Here I have some solutions you can do in case you face this problem:
The first and easiest thing you can do is contacting the Spotify support and ask them to check your problem. They will probably tell you to wait for the update, but you can try your luck.
Always get your stream counts from the Spotify dashboard for artists because it shows the most reliable updates about your streams.
Some artists use bots and click farms to get more streams on Spotify. If you did that to get more streams in a shorter time, you need to wait more for your stream update as Spotify takes longer to get access to your data.
How to Boost Your Spotify Streams
Streaming numbers on Spotify is getting a serious competition on Spotify among the artists. Besides the money you can earn from your streams on Spotify, the competition is beyond the dollars.
The numbers you get from the Spotify plays is showing the result of your work and you can compare it with other artists and more importantly with your potentials. When it comes to serious competition, you need to have various and smart methods to stay in the ring!
I was searching about increasing Spotify streams and I found some of them really interesting and practical which I will share them here, hoping it can help you.
Spotify offers different features to artists to promote their music and increase their number of streams. Besides these features and methods there are also some other things such as paying for bots and click farms (Spotify stream farms) to play your songs on Spotify. Here I am going to talk about the features that Spotify is offering and some other experiences from the other artists on Spotify.
Boosting the Spotify streams has a simple solution which is your presence. Despite the simple solution in words, getting to this target is not an easy business. You should release music on Spotify as often as your budget allows you. You need to work hard on your music and have a plan for releasing them on Spotify. This helps you to be present on Spotify regularly and gradually your streams will grow.
The other solution for increasing your streams on Spotify is getting on different kinds of playlists. I have talked about pitching a song on Spotify in the "Become Successful Spotify Top Artist Made Simple" page.
One other simple solution is sharing. By sharing you can attract more users to listen to your music. You need to become more active on social media and networks such as Instagram, Facebook, and twitter. These platforms have an enormous number of active users who can simply boost your Spotify streams by a click or tap. All you need to do is putting your music on a playlist and share it. If you want to learn more, visit the How to Share Spotify Playlist page and give it a shot!
I brought an example of releasing music and getting more streams in the picture below. This is the Billie Eilish's Spotify monthly listeners. You can see how the numbers grew in a year!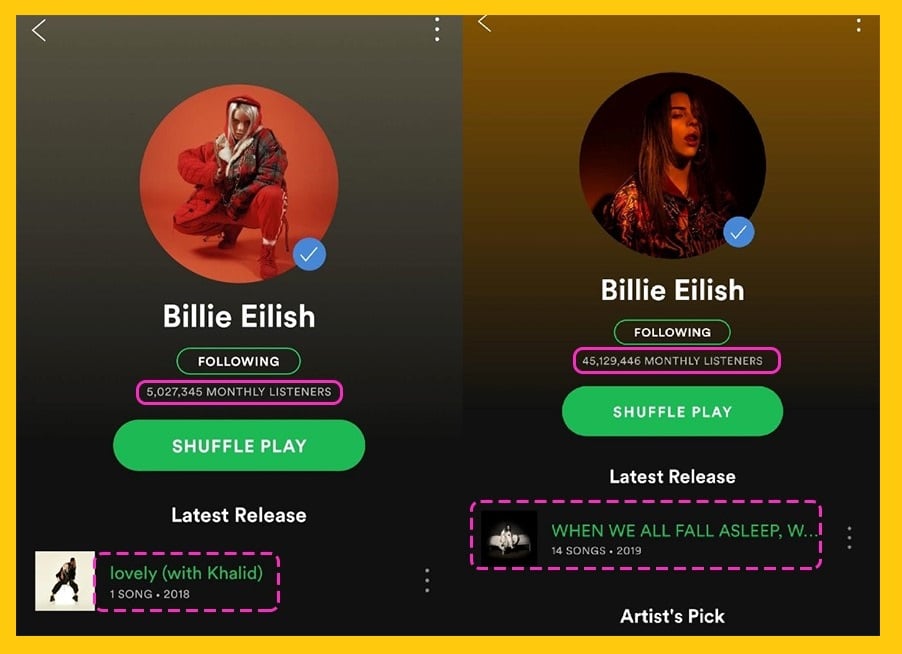 Conclusion
In exchange for each stream a user listens to on the Spotify app, music streaming service Spotify pays 70% of its revenue to artists from the sales of premium accounts or advertisement display in the free account.
Spotify considers the song as a stream if the user listens to it for at least 30 seconds.
It is required for users to go online at least once a month in order to save the tracks from Spotify otherwise they lose access to their downloaded tracks. And each time they go online, Spotify counts how many songs were listened to offline.
In the end, you can use some tricks for increasing your Spotify stream like sharing your music on social media or pitching your songs in a Spotify playlist and you can also increase the number of your Spotify streams by advertising your songs on Spotify or using stream farms.
It was our intention to cover as much information regarding Spotify streaming as possible in this article. However, if we have overlooked anything, or you still have a question regarding this topic that we have not addressed in our article, please let us know in the comments box below.
If you find this article useful, then please let your friends know about it. This gives us the energy to produce the next better article.