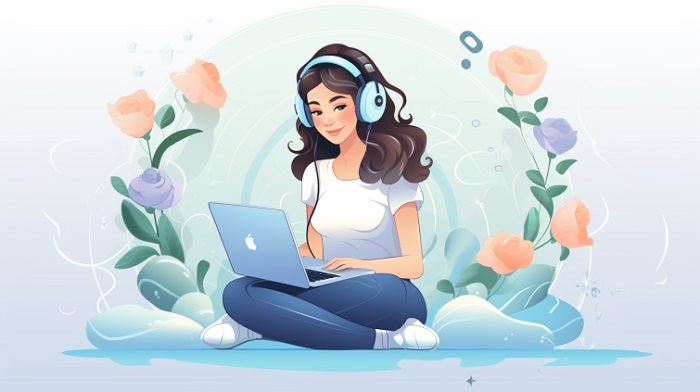 Spotify songs could be more enjoyable if you could listen to them offline. By downloading music on Spotify and have them on your device you can listen to your desired song all the time.
On the other hand, if you want to become an artist on Spotify you may need to know more about uploading music on Spotify.
You will find not only some helpful tips about the Spotify songs, but you will also find some useful tips and tricks about Spotify and how to find any Spotify errors solution you may come across.

In this article, you will find
Is Spotify Free Forever?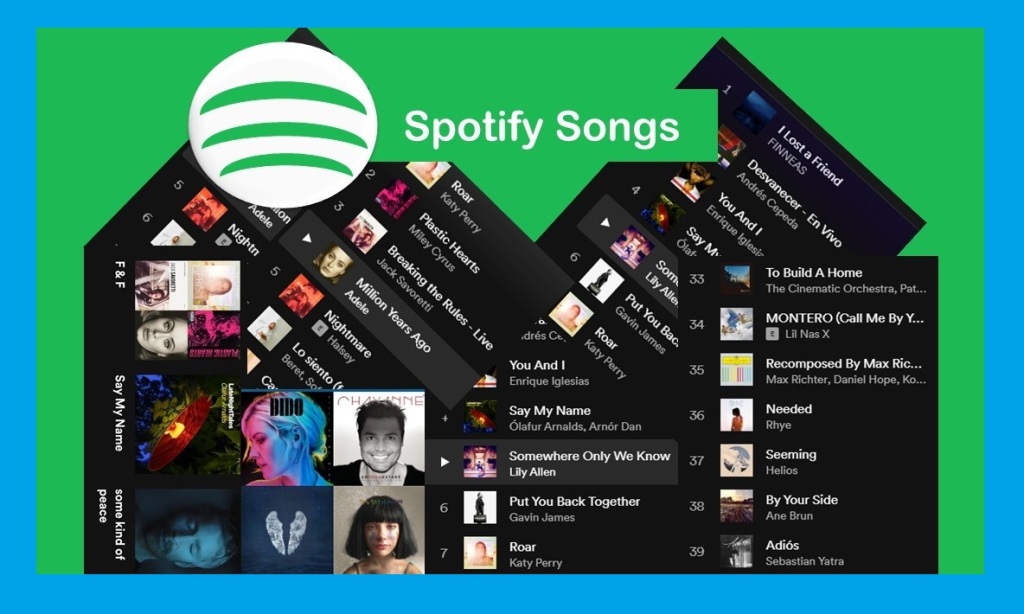 There are two different types of Spotify, the Free and the Premium versions. By spending a reasonable amount of money (less than 10 USD) for a month in the united state you can use the premium service of Spotify although there is a 50% discount for a student. Other services, like Duo and Family, allow people to share the account, so the price can be cheaper for each user.

There is a free version of Spotify that is useful for people who want to try out this service or accept listening to music with advertisements, but there is a time limit for using this service for free.
When you, as a free user, create an account, you can only enjoy listening to music on Spotify for 6 months with no limits. But after these 6 months, you will be able to use Spotify 2.5 hours per week and on the other hand, 10 hours per month.
According to where you are living these limitations can vary!
How to Download Spotify Songs?
In this section, we'll cover some questions about downloading from Spotify like:
Can you get any music on Spotify?
Where is downloaded Spotify Song's Location
How Can I Download music on Spotify for Free?
Can You Get Any Song on Spotify?
According to Spotify rules, you can only download albums, playlists, etc if you have a premium account!
Note: Free users can download Spotify podcasts!
If you are using Spotify on your pc, you need to log in and then search for the music that you like to download. Keep in your mind that you need to make a playlist for this aim! You can't download a single track on Spotify that not belongs to any playlist!
We made it clear by these two photos. Take a look.
Unstoppable by Sia is the song we want to download by Spotify.
You can't directly download a single song!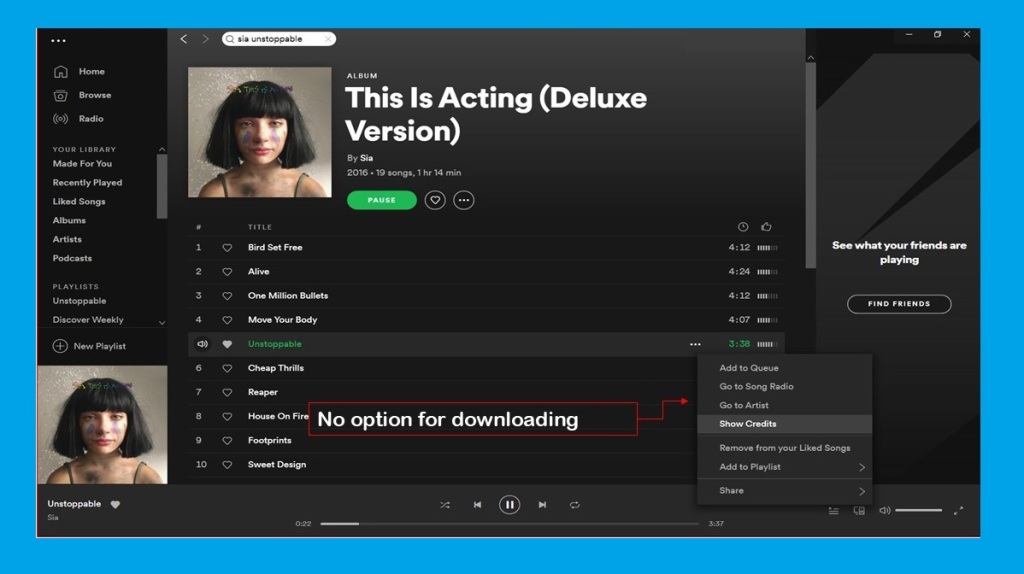 You have to make a playlist, like a photo below and then you will be able to download the songs of your playlist.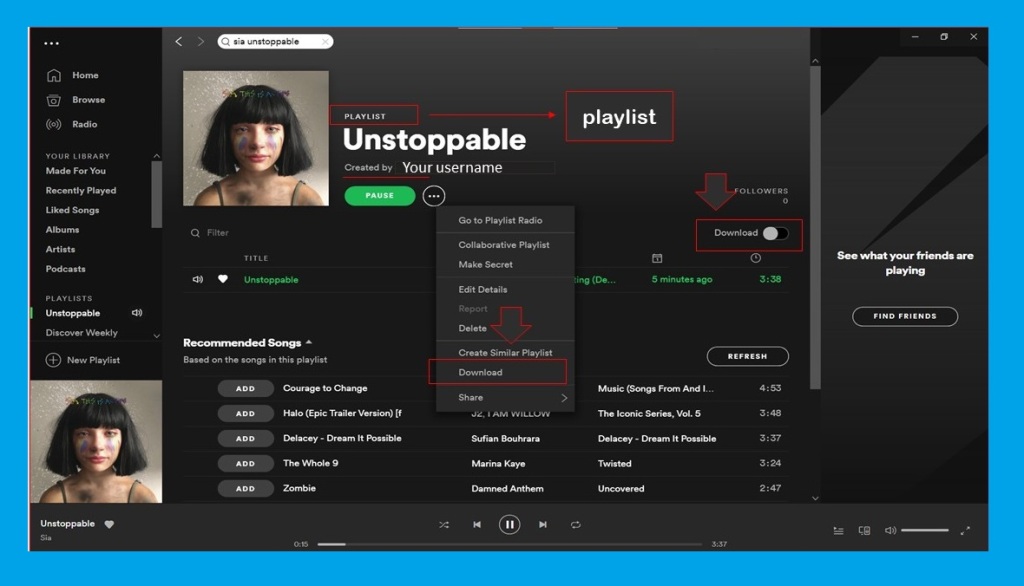 Downloaded Spotify Song's Location
To locate the Spotify downloads:
open Spotify & go to Settings
Show Advanced Settings
Offline Songs Storage
The default storage location:
C:\Users\Username\AppData\Local\Spotify\Storage
On your phone
You can enjoy playing the songs offline now! The music only can be used by Spotify.
How Can I Download Songs on Spotify for Free?
If you can't afford the monthly fee, you still can download the songs on your PC! Don't worry!
We introduce to you an App that is a converter and by that, you will be able to download songs and save them on your PC!
Sidify music converter is a friendly-user program and you can easily learn to use it properly! It has paid and free products!
How to Download Spotify Songs to Mp3?
First, go to the Sidify website to download this App. When you downloaded the App, you can copy the link of each song or drag and drop it from Spotify for converting purposes.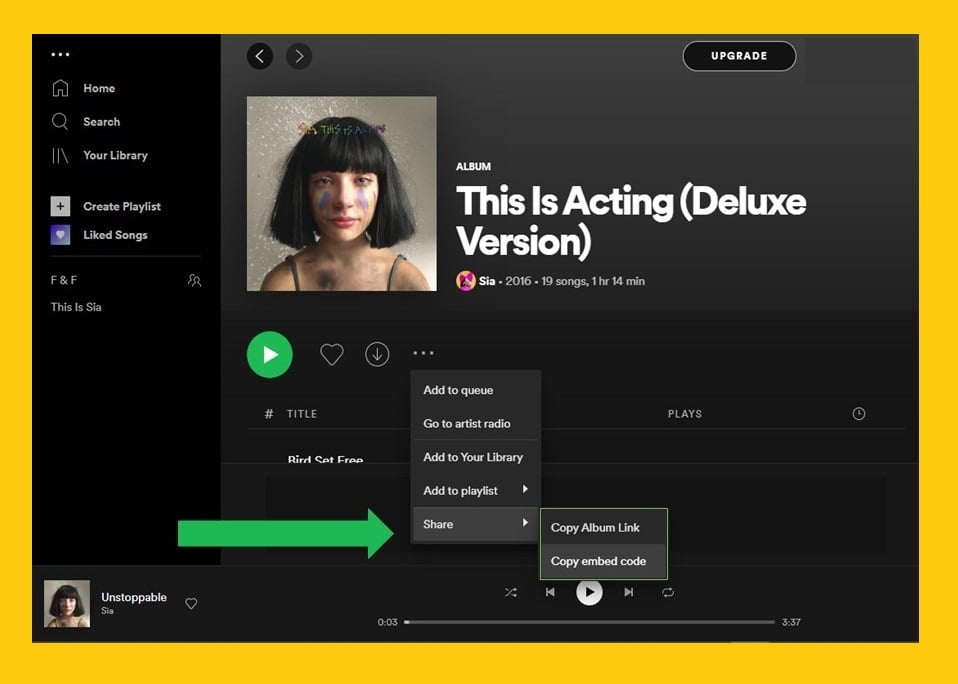 After giving Sidify the song you want to download, it is time to convert it to MP3 form!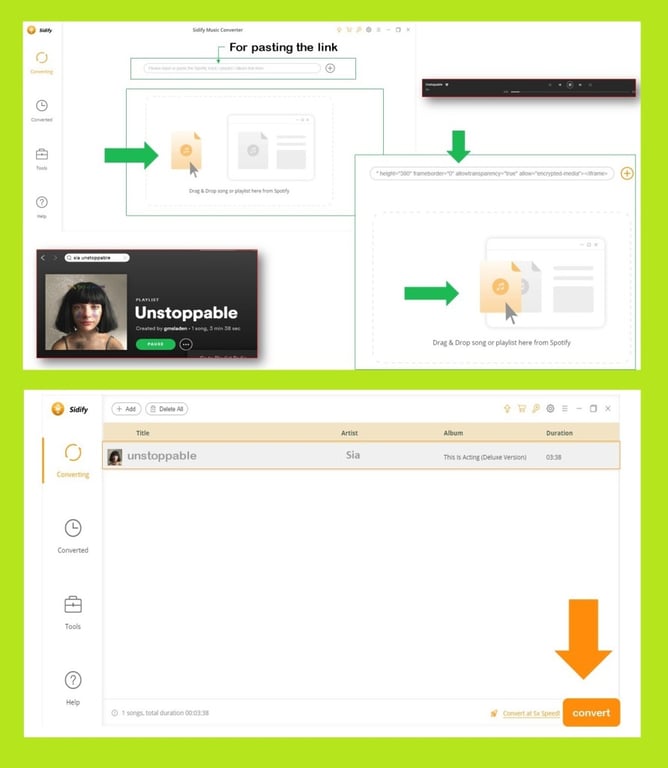 The song will save on your PC and you can transfer it to your phone or wherever you are eager to listen to it offline!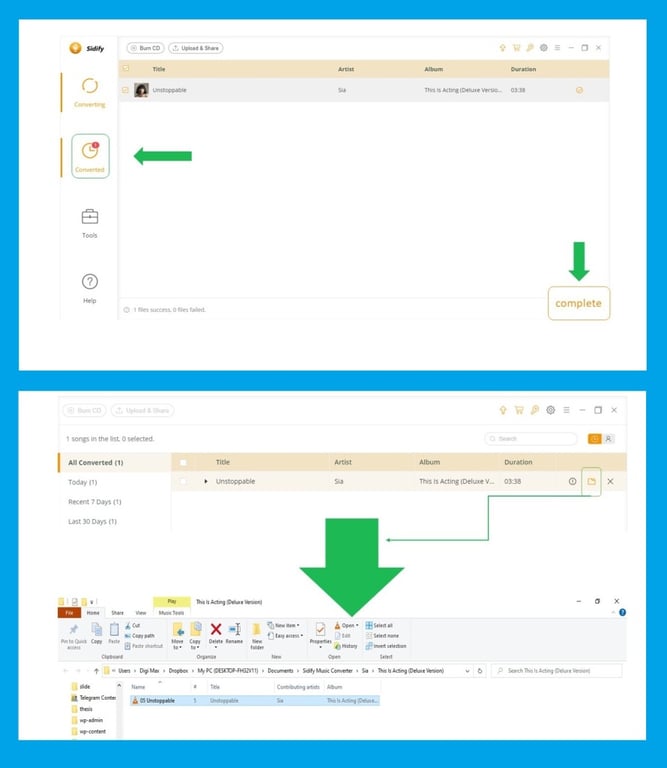 But we emphasize the fact that you only use this app if you can't pay Spotify monthly!
How to Upload Spotify Songs?
In this section we want to introduce you two methods for uploading music on Spotify:
Via Spotify
Via distributors
Via Spotify
You can add the music you want to listen to it on Spotify. As a listener or artist, you are able to add the music on Spotify only for listening and personal use!
For this aim, follow the steps.
Step 1: log in to your Spotify. Click on your Spotify username (CFM here).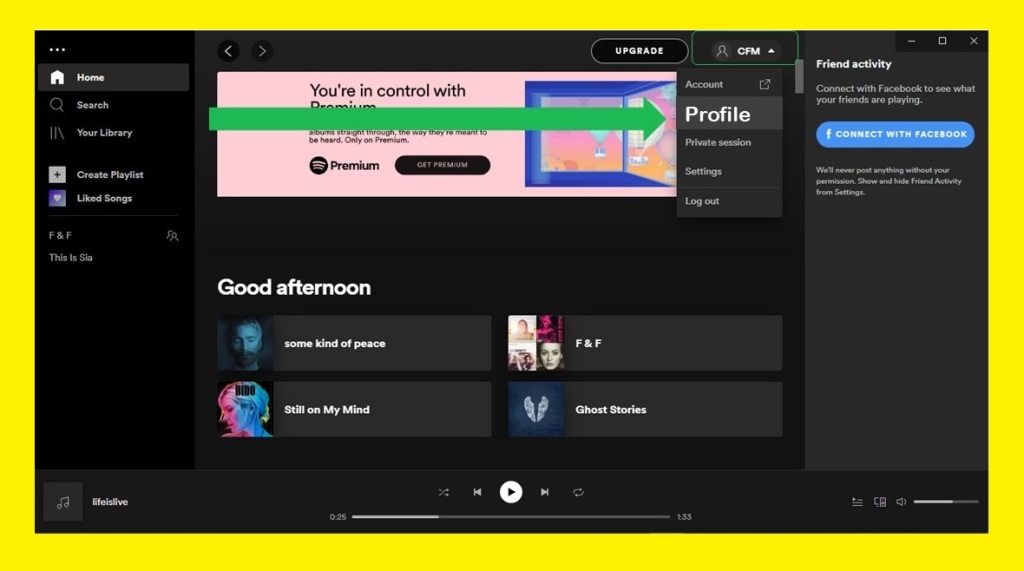 Step 2: when you entered your profile, click on three dots in the top left corner. Select "Edit" and then "Preferences"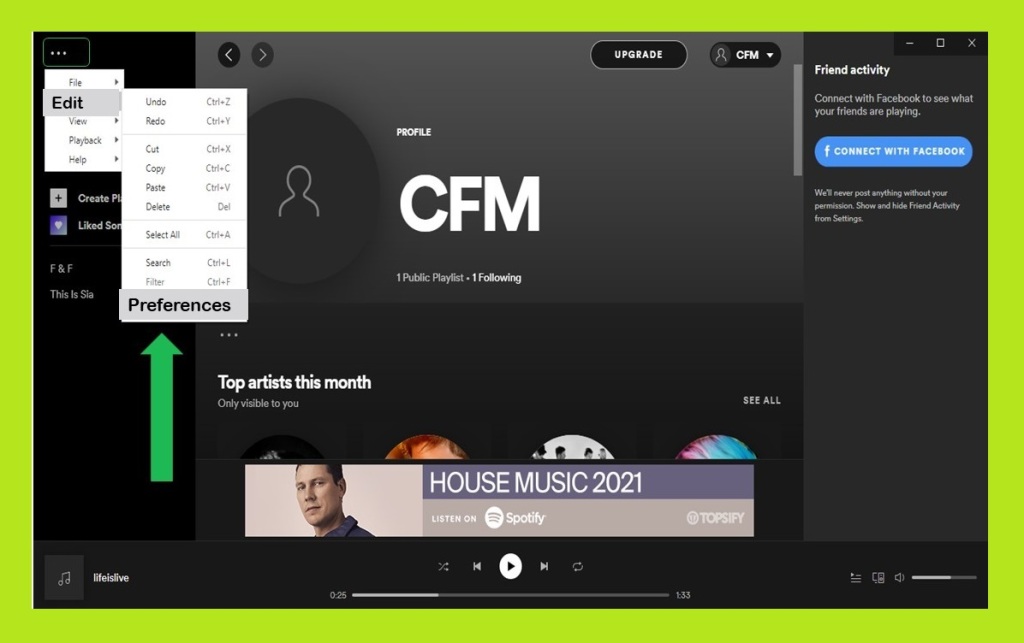 Step 3: in this step, you need to toggle on "Local File" and then click on "Add A SOURCE". You can add songs from your PC, for example, all the music from your Desktop can be added to your Spotify account and you can listen to them via Spotify from now then.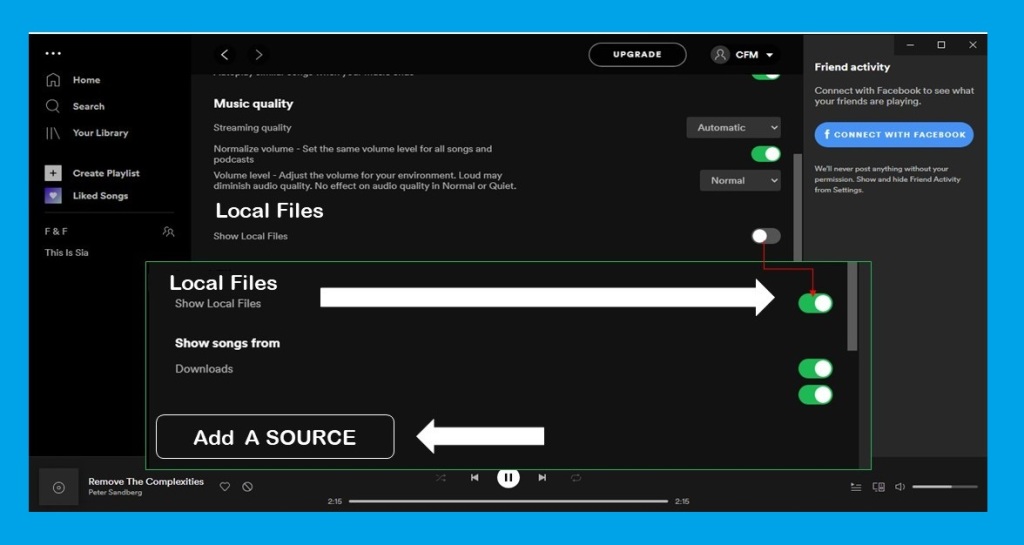 Like the photo below. Your library will show the files.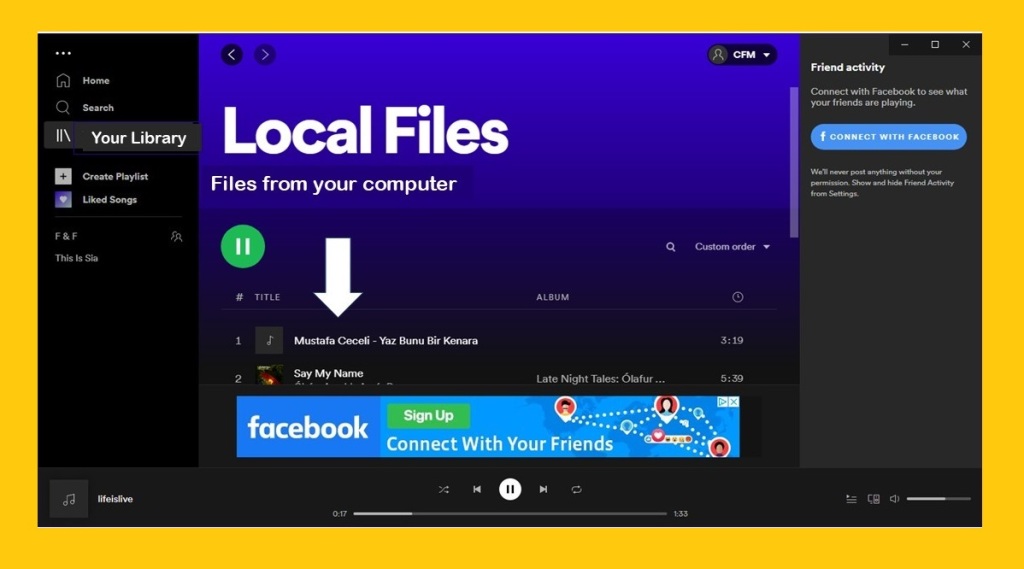 For more information, you can follow the Insider article too.
Via distributors
You can Not upload directly your song as an artist on Spotify for earning money! Don't worry, distributors made it easy for you.
There are some distributors like:
DISTROKID
CD BABY
tuneCORE
They are the ways of getting your music onto Spotify!
We chose TuneCore here to guide you on how to upload your music via Distributors.
Step 1: Sign up on TuneCore to get your music on Spotify.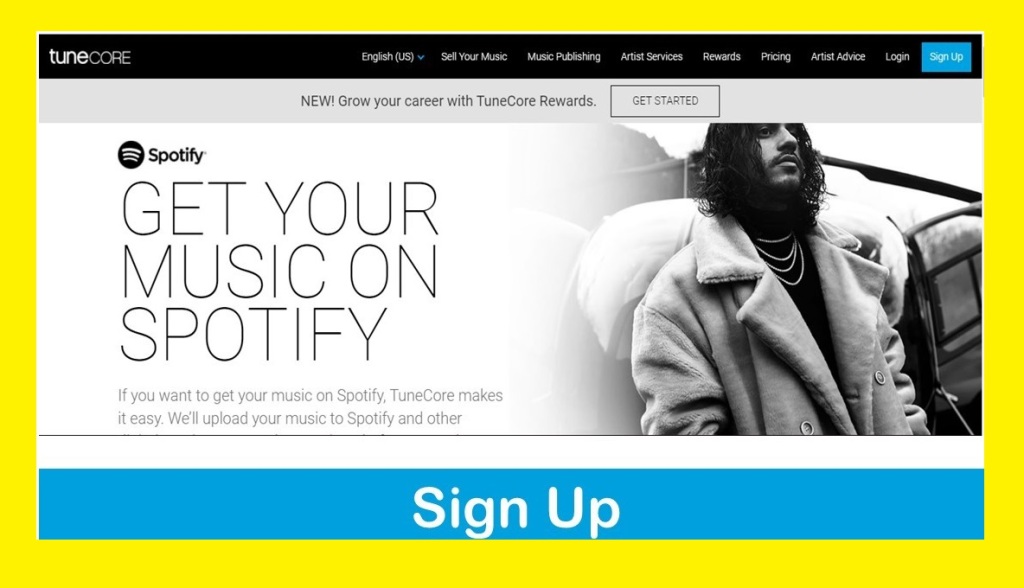 It only needs an Email, besides username and password! When you are done with it, you can select from the category it provides for you.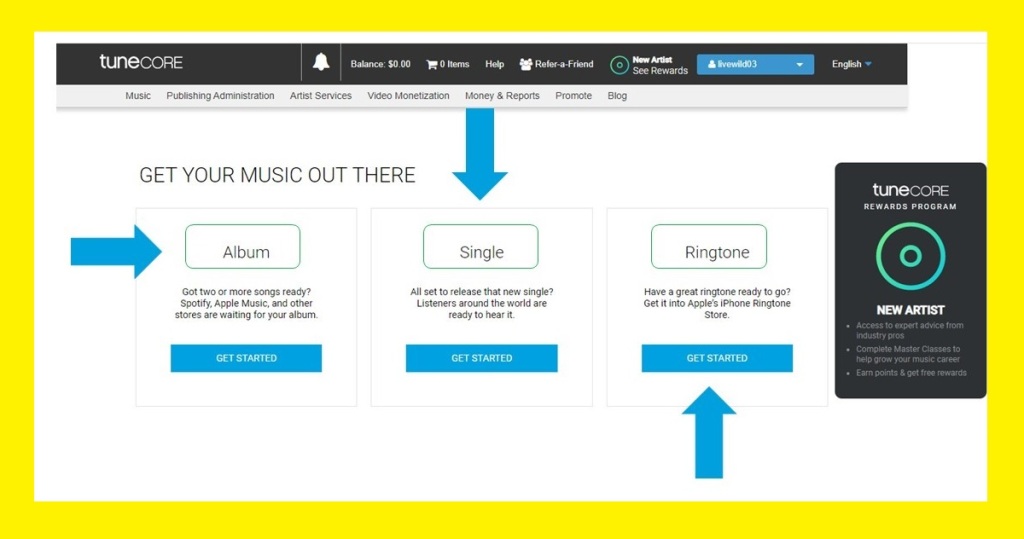 It is that simple! After providing the requirements, you can Enjoy publishing your music and getting listeners!
On the Spotify artist page, we explain about uploading music via DISTROKID.
Your Top Songs on Spotify
How Do You Get Your Top music on Spotify 2022?
If you want to see the music that you most played and enjoyed appear like a list for you, you need to visit the stats for the Spotify website. Log in with your account and then see your top songs or top artists!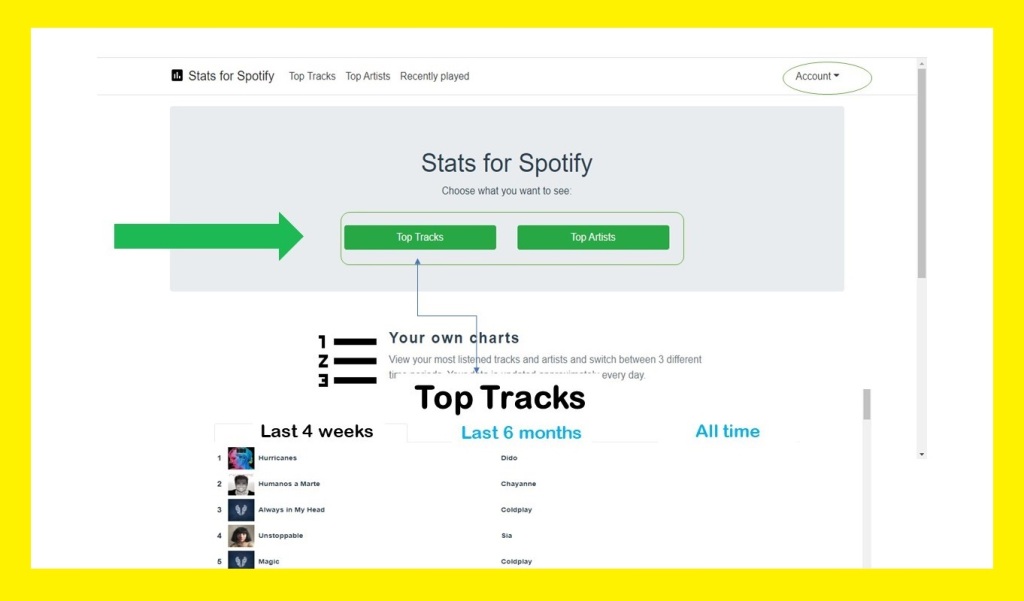 You also can make a playlist of your top songs!
Then you can see the playlist of your top music on Spotify!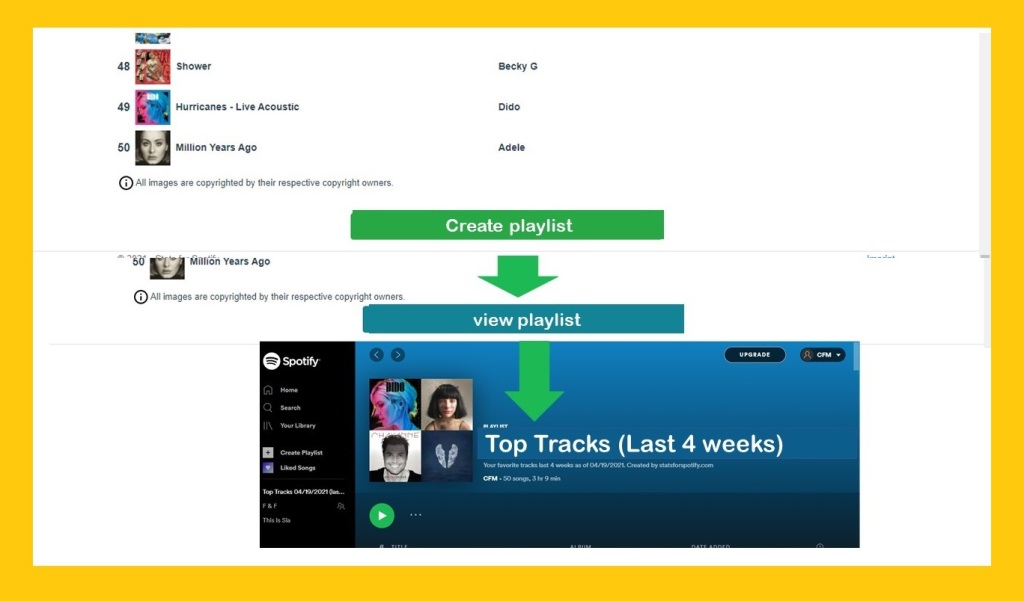 Are Your Spotify Top Songs in Order?
When you look at the list of Top songs of your plays, you will see the songs you played the most time, are on top and the ones you listened to them less, are at the bottom of the list. Regularly it will be like that!
How Do You See Your History on Spotify?
There are two ways to finding the music which you listened to on Spotify:
1- Recently played
You can easily follow these steps for finding what music you have previously listened to on Spotify in order to listen to them later or to download them.
Go to "Home" section on App
check the "Recently played"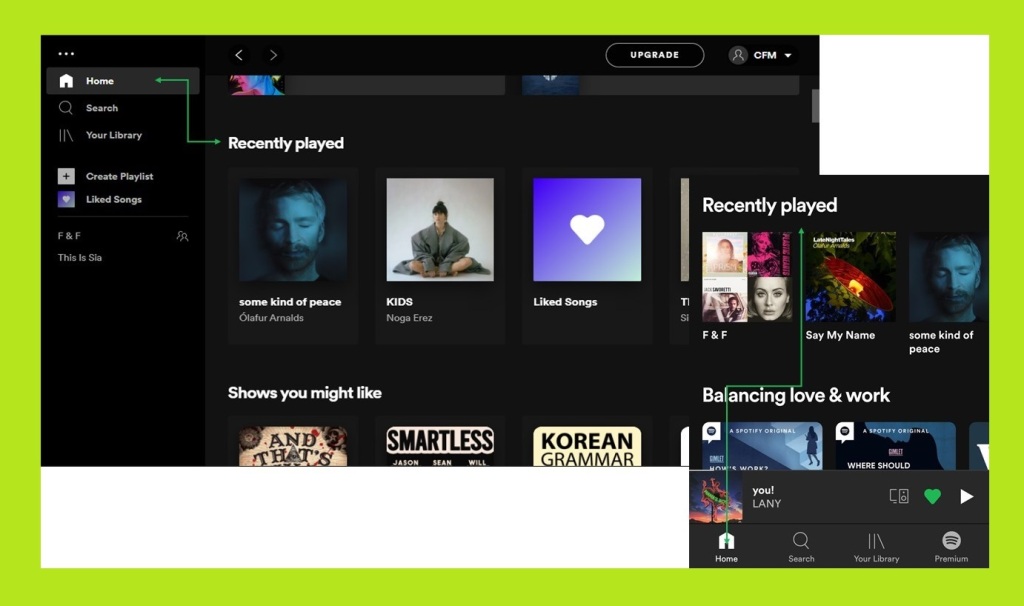 2- Library
How Do I See All My Songs on Spotify?
Your library is the place that contains all the songs you have played or liked!
(On your Pc and your phone is the same)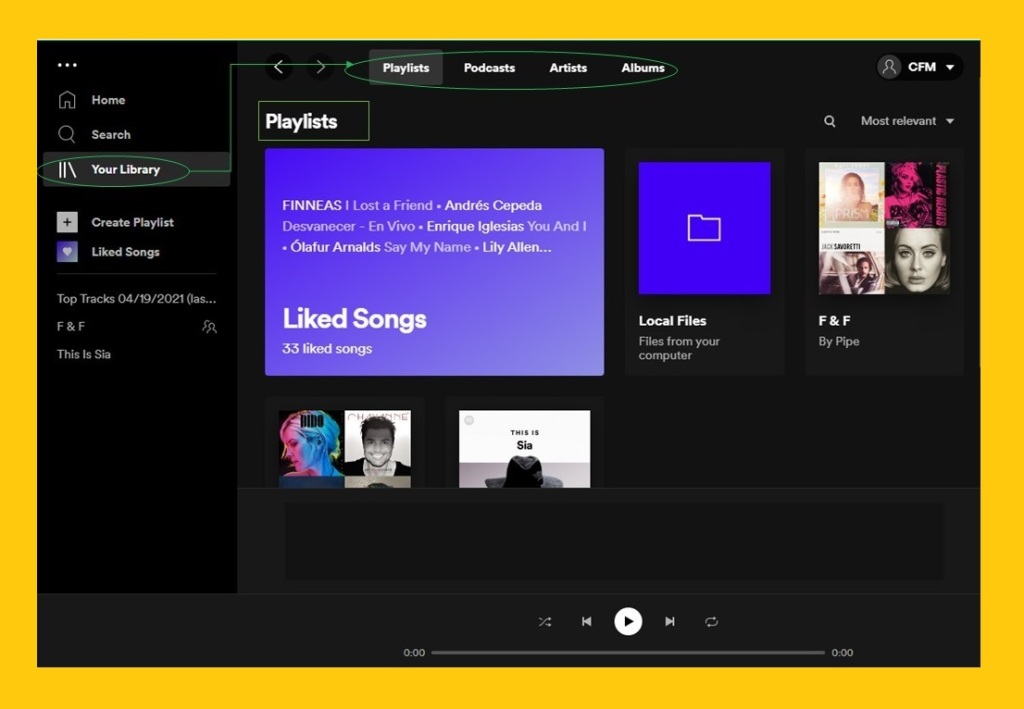 But your "liked songs" both on your PC and your phone are the first part that will come up in your library. So, a useful tip for you is to put like on the songs you want to listen to again.
Spotify Songs Not Playing
There are some solutions that you can try, in this section, we want to mention 8 of them.
Check if your app is an updated version
Go to your profile (on PC)
Click on three dots on the top left-corner
Select Help and then click on About Spotify
Click on "Update Now" if there's an update available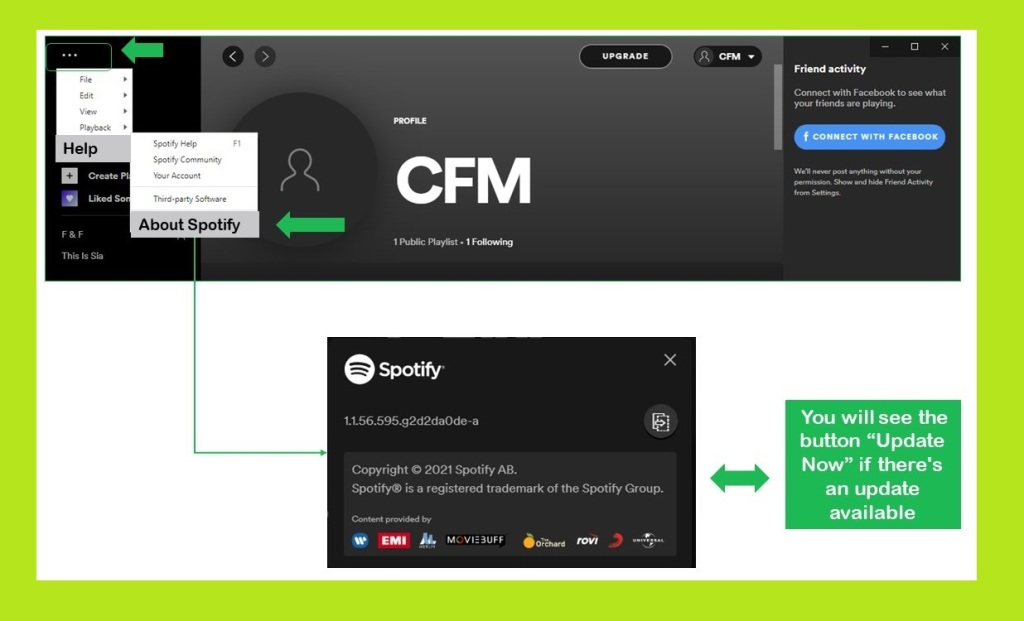 2. Log out of the app and then logging back in
3. Uninstall the app and then reinstall
4. Update your sound driver Craig
5. Exit the other app that also plays audio
6. Remove downloaded files from Spotify (for premium users devices when going out of space)
7. Turn off hardware acceleration
How to Turn off Hardware Acceleration
For turning off hardware acceleration you should follow these steps:
Go to your profile
Click on your profile name
Go to Setting
Scroll down to reach Advanced setting
Turn off hardware acceleration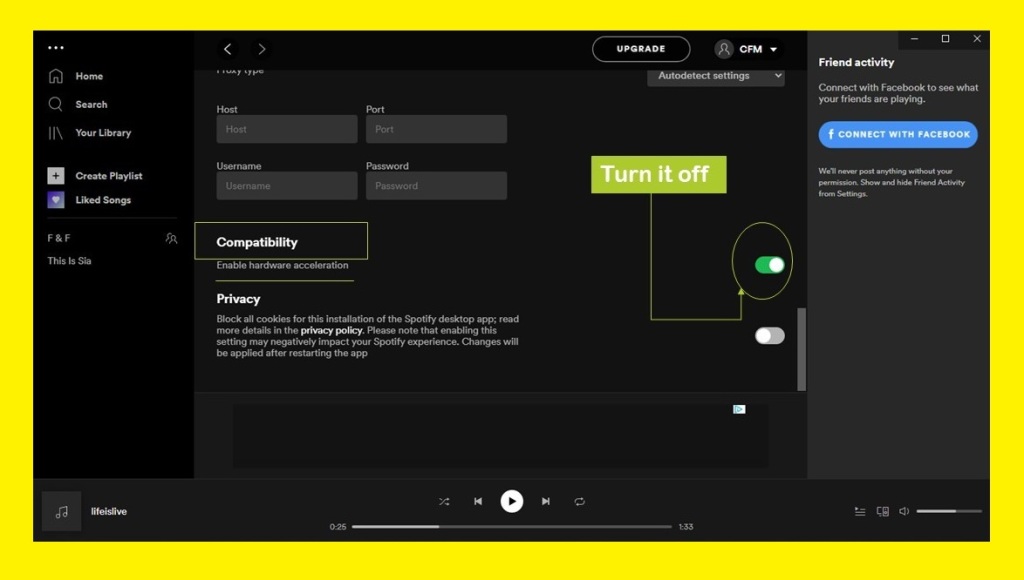 8. Turn on or off Crossfading
How to Turn on/off Crossfading on Spotify
For turning on or off crossfading on Spotify you should follow these steps:
Go to your profile
Click on your profile name
Go to Setting
Scroll down to reach Advanced setting
On playback section, turn Crossfade songs on or off
Restart Spotify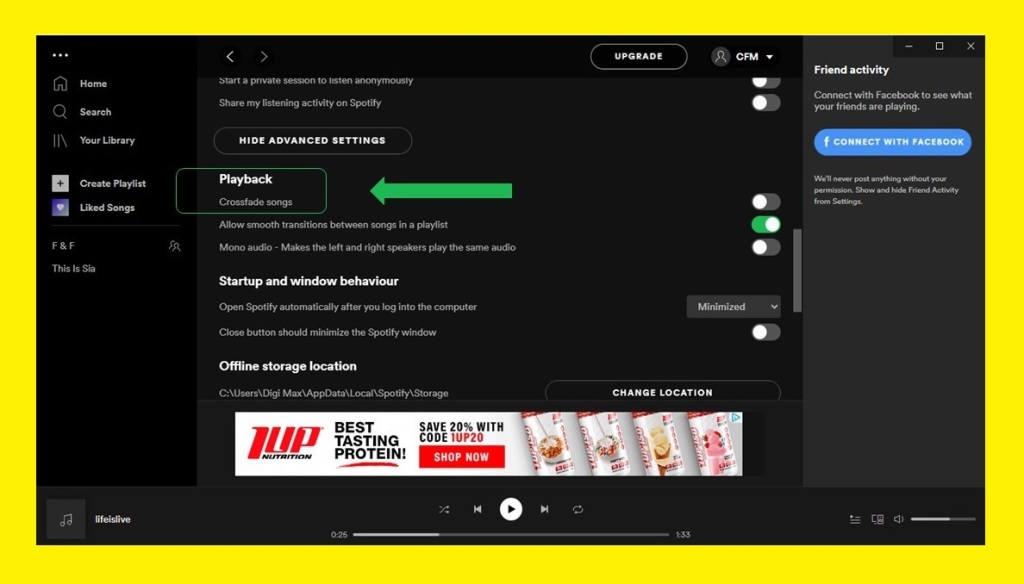 you can find more information about the Spotify errors solution here.
Conclusion
Spotify is an application that has two options free and premium. Spotify's free account allows you to listen to a vast amount of music, but after six months you can only listen to music for 2.5 hours a week, so if you enjoy listening to music, it is advised that you upgrade to a premium account.
You can download music easily if you have a premium account, but free users can only download podcasts from this app. If you download the music you can listen to them offline, but make sure to go online each month otherwise your downloaded music will be lost. The good news is that free users can still download music using some applications like Sidify.

As an artist, the Spotify app allows you to upload your music directly to the service or use distributors like DISTOKID or tuneCORE to upload files to Spotify.
If you use Spotify, you can see your top list and which streams you listened to most. On your Recently played and Library sections, you will find all the music you have heard.

Whenever you use a new app, you may run into problems when you want to listen to your chosen music on it, so we gave you some methods to try that to fix these kinds of problems on Spotify.
I hope this article helps you to achieve more information about Spotify music and enjoy listening to music on Spotify. if you have any questions about this subject, that we did not cover, please send them to us we will answer them by updating this article or in our other posts.
If you find this article useful, then please let your friends know about it. This gives us the energy to produce the next better article.