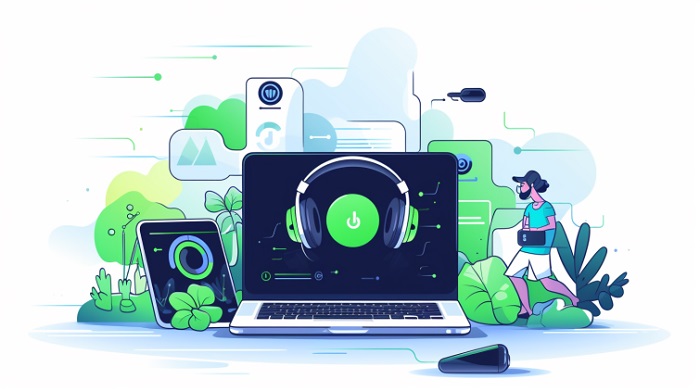 Spotify app compare to Spotify web player give more features to Spotify users and artists. In this article we are going to talk about Spotify app and frequently asked questions about this program like how to download music on Spotify, work with Spotify playlist and many other tips and tricks about this streaming app.
Here you will find: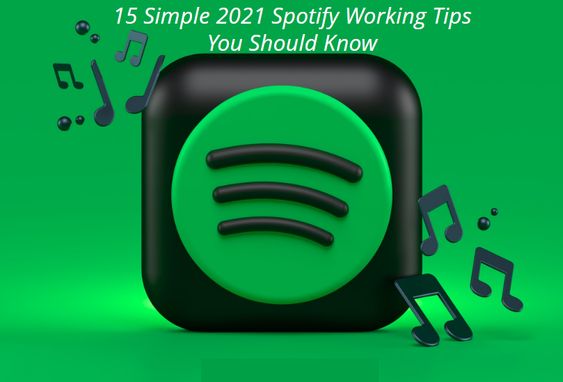 What is Spotify App Used For?
Spotify app is a freemium app and you can have a access to millions of music that they have in their library and listening to them free and if you like you can upgrade your account and use its premium features like:
listening to music without ads
listening to music with better quality
downloading your desired music and …
Is There a Free Spotify App?
Spotify app is totally free and you shouldn't pay any money for downloading it. after downloading it on your device you can sign up and login to your account and listen to your desired music free. If you like to listen to your desired music with better quality and without ad or downloading it and listening to your desired music offline you should get Spotify premium plans.
How Does Spotify App Work?
Work with Spotify and listen to music through it is easy. Steps to work with Spotify:
1. First, you should go to the Spotify website and create an account. We recommend that you log in to your Facebook account if you have a Facebook account, as this way you can keep in touch with your friends and find out the music that they are listening to and share your favourite songs.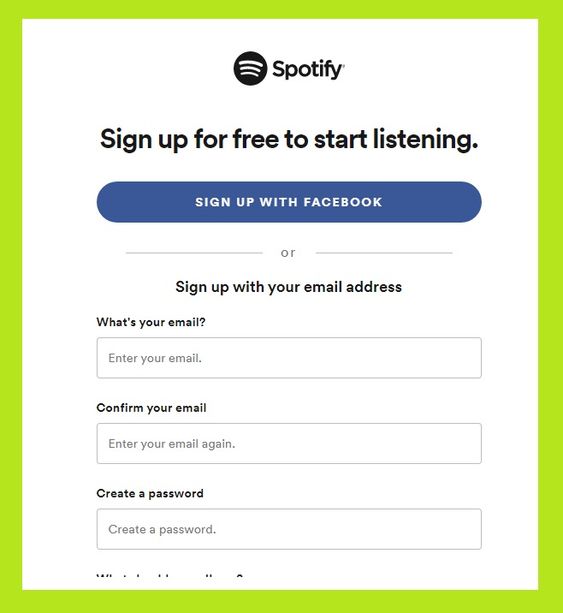 2. Select a subscription level. We recommend that you choose the special version of Spotify (Premium) because, with this version, you can access more features. Also, this version is more flexible, and you can use it through more devices.
To upgrade to the premium version, press the upgrade button at the top right.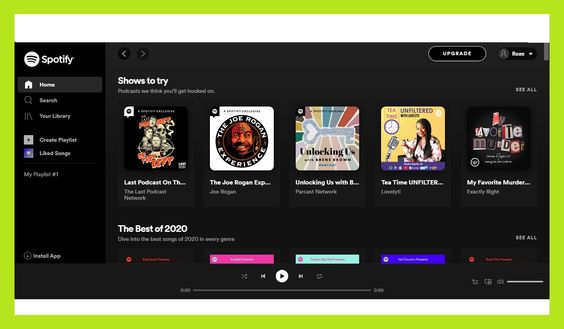 How do I Install Spotify?
3. Download and install the free Spotify app. There are versions for desktop, iPhone / iPad, and Android phones for that you should follow these steps:
Go to the Spotify website.
Download the proper installer for yourself.
Open the installer.
It will automatically install Spotify for you, just wait until it is finished.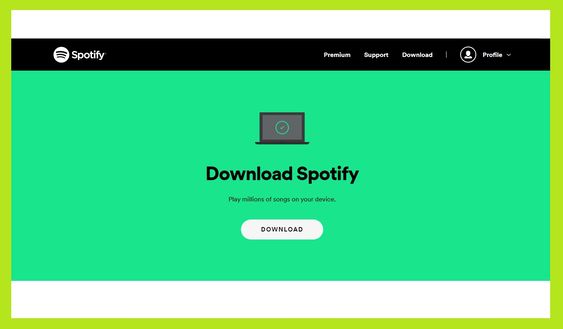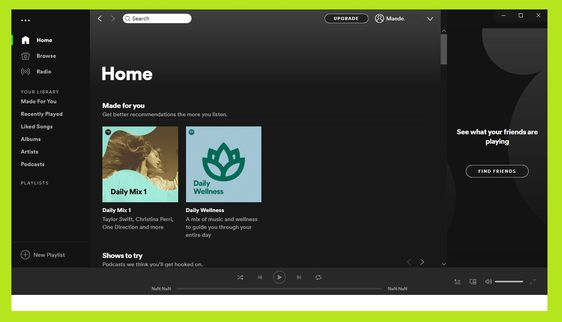 4. Log in to your account through these devices and listen to music according to the following steps:
First, we open the Spotify software. In the search box, search for the desired music. By doing this, in addition to the music you want, similar pieces of music will be displayed.
Then click on the music, and the music will start playing after a while. For example, in the photo below, you can see that we searched for the song every day. You can also see similar results.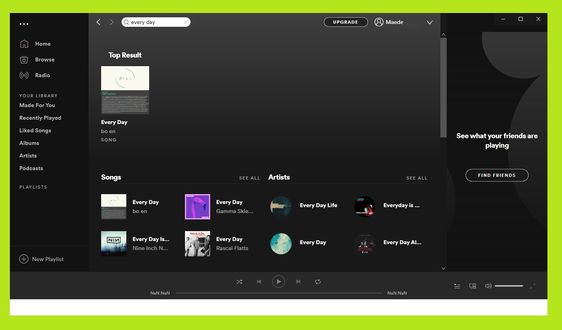 Suppose you have a Spotify Premium account; you can easily download the music and easily listen to music offline the next time without the need for the Internet. But this service will not be active in the free account and Spotify Premium account.
An interesting feature of Spotify is the creation of various playlists and the ability to share your favorite music. Select the desired music and select Share To; you can easily share this music with your friends on various social networks.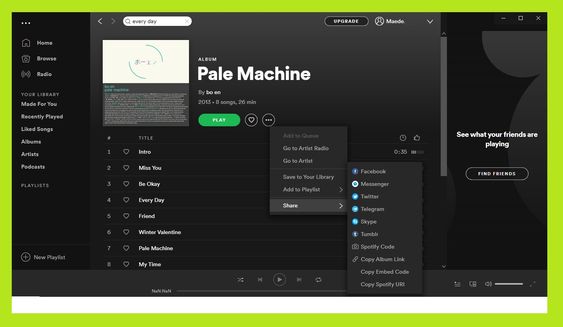 Other features of Spotify include access to information such as artist profiles, a list of artists in a particular style, and more.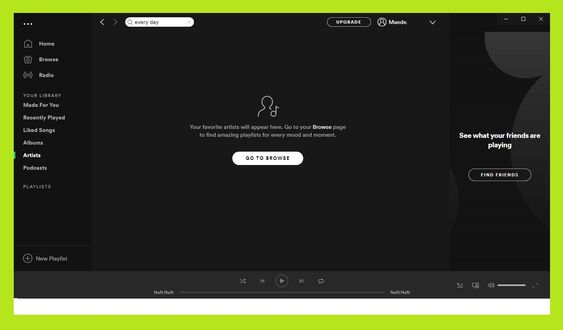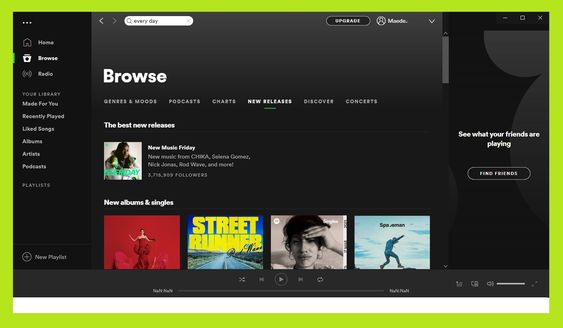 Installing Spotify is easy, but once you get into it, you will find more features, and the more you listen to music, the smarter you will become.
How Much is Spotify a Month?
Spotify has 5 different Premium plan:
Mini
Individual
Duo
Family
Student
and the price of each plan in different country is not fix, for example in Africa the Individual premium plan price varies from 2.19 to 4.99 USD.
In the United States, there are four different Premium Spotify plans available. The monthly price of each plan are as follows:
| | | | |
| --- | --- | --- | --- |
| Individual price | Duo Price | Family Price | student price |
| $9.99 | $12.99 | $15.99 | $4.99 |
Does Spotify Use a Lot of Data?
One minute of music takes about 500 KB of data, and 1 GB contains nearly 1 million KB. Using 1 GB of data, you can stream approximately 33 hrs and 20 min of music. If you're only listening to music over your data, you should be fine. But you may think, "I don't listen to Spotify that much.". Additionally, you may stream videos, surf the web, and use social media.
How to Reduce Data Usage on Spotify

For reducing data usage you can follow these steps:
Click on the Settings icon.
Audio-only podcasts can also be switched on under Data Saver. As a result, when you download podcasts, their videos are not downloaded as well.
Spotify Family Plan
Spotify offers a program in which up to six family members are allowed to share music listening services and receive a special discount. you can provide Spotify service far cheaper for your family by this service. For example, a family of four pays only $ 4 per person, instead of 10$ for each person in the united state.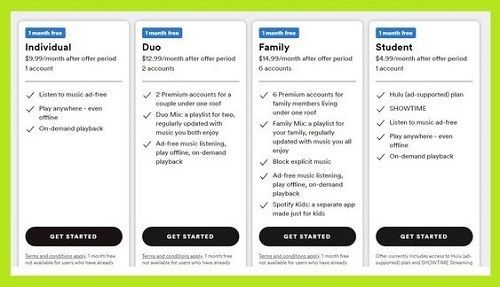 Family Spotify subscriptions typically cost $ 15.99 in the US. You can use this plan for one month for free. With Spotify Family, Spotify Music Service hopes to increase its subscriber base against its many competitors, from Pandora to Apple iTunes.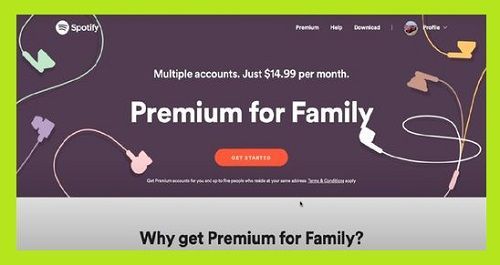 As soon as you activate Premium Family, you will be asked to confirm your home address. To subscribe to Premium Family, the primary account holder and sub-account holders must be members of the one family living at the same address.
In the Spotify Family version, members can only change family plans once a year. Everyone in the plan uses their own account, so no one shares their password, and everyone keeps their music saved and their playlist.
A family service is a tool optimized to increase users' number and increase loyalty to Spotify subscribers. It should be noted that this service offers a discount package to prevent subscribers from leaving Spotify. Spotify uses effective services such as wireless carriers for this service. Other music streaming services, including Radio, include family services.
Spotify Premium Family Advantages
Having multiple accounts does not mean that users have the same and mixed playlist. Also, if another person logs in with a family account simultaneously, the other person's activity will not be stopped. By subscribing to the Spotify Family account, you can enjoy the following features:
Unlimited access to over 30 million high-quality songs
Play music without using the Internet
No repetitive ads
The plan manager can invite or delete members.
In the Spotify Family account, to manage your family accounts, you can select the option to add or remove members by inviting or deleting members. For More information about this version of the Spotify account we recommend you to read 8 Helpful Spotify Premium 2021 Tips, You Should Know articles.
Working with Spotify Playlists
The playlist is the best option when you want to create a mix of your favourite songs to suit your mood. Just click on Create Playlist to create a new playlist.
Then choose a name for your playlist and explain a bit if you want. You can also choose a cover image for it.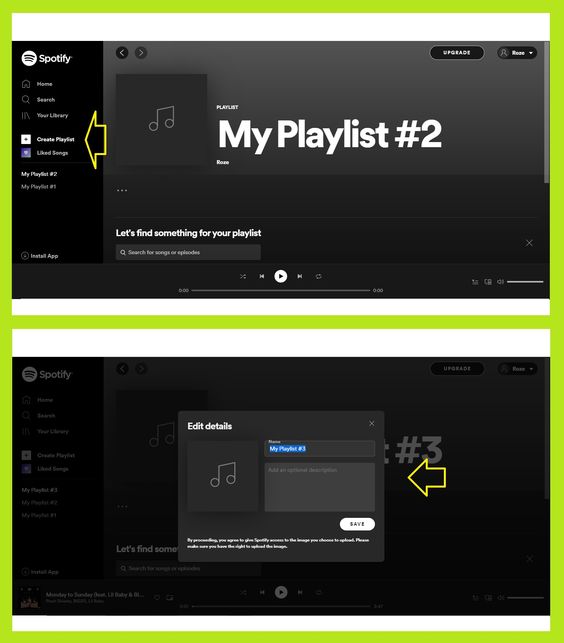 There are two ways to create a playlist in Spotify:
Click the options button next to each song (there are three dots around this button) and click Add to playlist. You can add it to the playlist you have already created, and you can create a new playlist.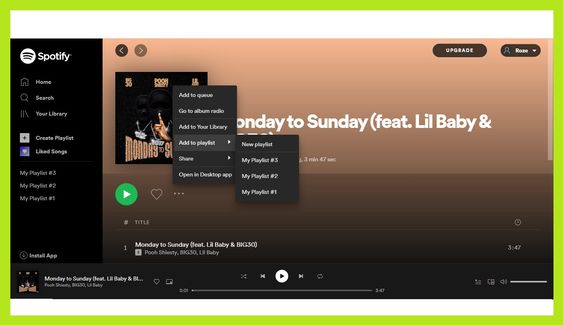 2- Go to the Playlist section in Your Music, type in the name of the song you want in the search box, and then click the ADD button that appears in the right corner of the song.
Save music for podcasts, Albums and Artists. To do this:
1- First search for the desired song and then click the options button next to each song. Now the song appears under Songs, the artist under Artists and the album under Albums.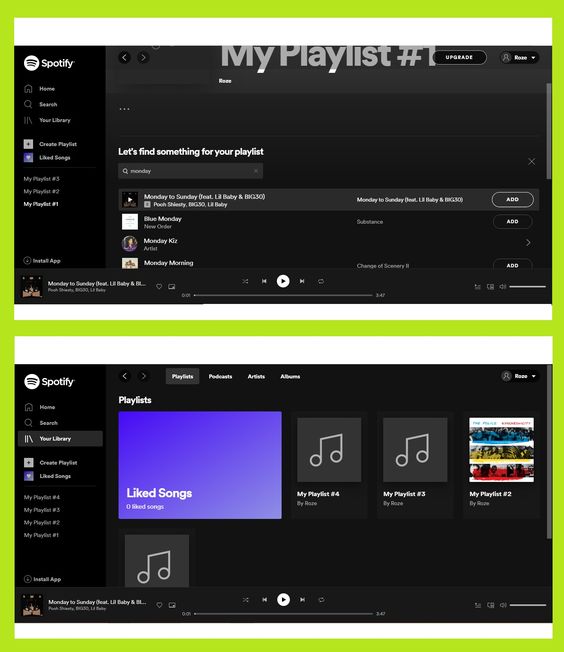 2- If you want to save an album or all the artist's music, you have to follow them. Go to the Album or Artist page and click the Follow button at the top.
As you see, That music artist now appears in your library.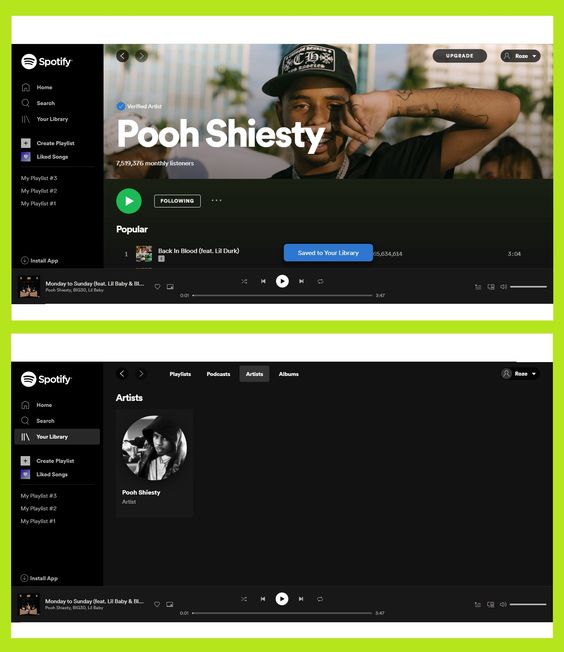 You can also delete any of the playlists you have created, as shown below, or change the details.
The music you like is saved in the liked songs section and you can easily save your favourite music in this section.
For more information about playlists, we recommend reading "Spotify Playlist| How to Make, Add, Secret Songs" article.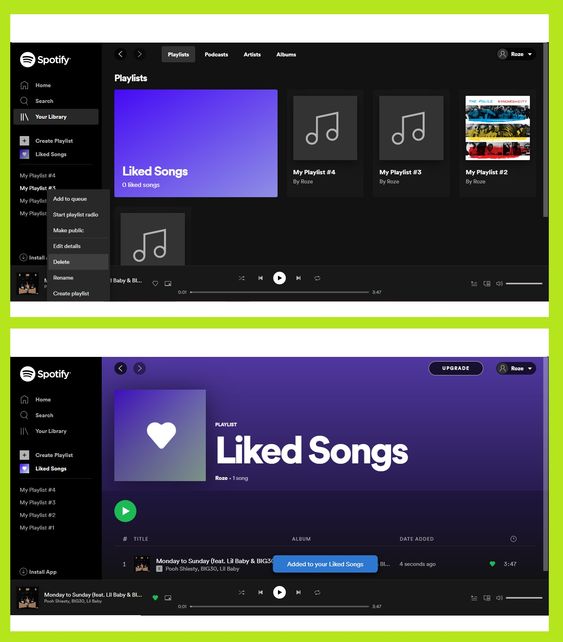 Do I Need Wi-Fi For Spotify?
Spotify needs a WIFI or mobile data connection to work but premium users can use some tricks to listen to their desired music without WIFI.
Does Spotify App Work without WIFI?
Yes, Spotify works without an internet connection, but with special conditions.
You can download your favourite songs and listen offline whenever you like.
In other words, the popular Spotify service offers premium users, or those who pay $ 10 a month to listen to attractive albums and music, several playlists that they can easily play their favourite songs when they are not even connected to the Internet. Free users must listen to ads between songs and cannot listen to playlists offline. Also, as you know, you should not disconnect your WIFI connection before downloading the songs.
How to Download Music on Spotify
In the Spotify Free version, users can access the huge Spotify library. However, one of the problems with this version is that there are ads between songs. Also in the free version, you can only listen to songs in Shuffle Play mode and it is not possible to listen to songs offline.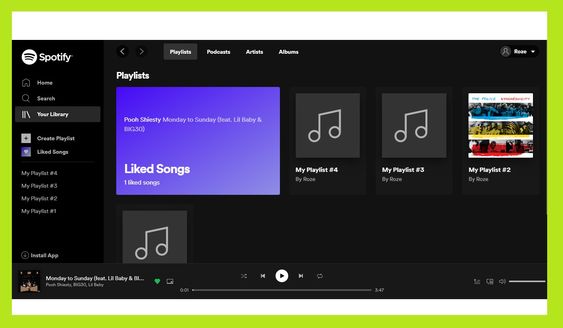 If you use Spotify Premium, you can easily download any song, playlist, or album you like and listen to them offline. So, Spotify works without WIFI.
There are two ways to play Spotify music without connecting to WIFI:
Method One: Use Spotify Offline Mode (For the Premium Version)
This way you can play all the songs and podcasts you have already downloaded without connecting to WIFI. Follow the steps below for this method:
First, you need to upgrade your Spotify to the premium version.
Download your favorite music, playlist, or podcast.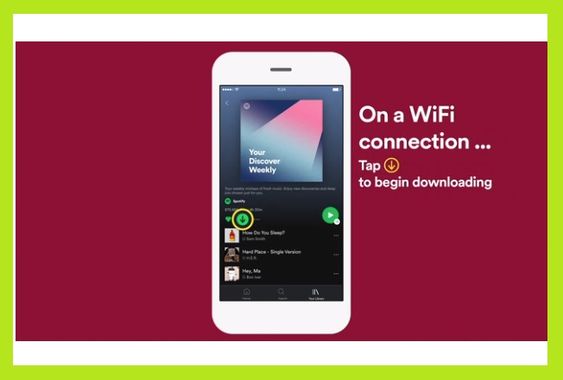 Then set Spotify to offline.
Once the offline mode is set, you can now listen to downloaded music without an internet connection.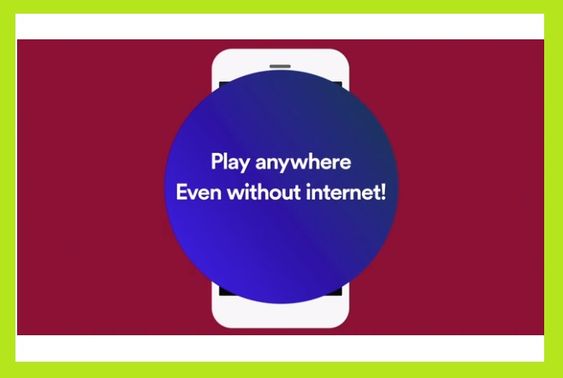 Steps to Listening to Spotify Playlists on Computer Offline:
First, open Spotify on your desktop. Then find the songs you want from the left and from the "Playlists" section.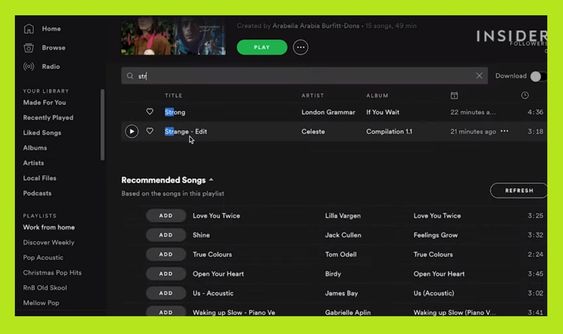 Then activate the "Download" button; It turns green when activated.
When the download is complete, a small green icon will now appear next to the songs you downloaded.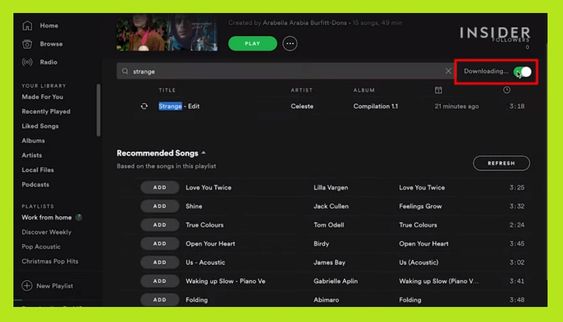 Now you can listen to these songs offline.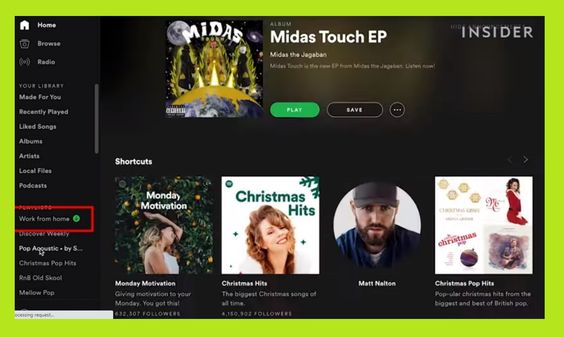 Steps to Listen to Spotify Playlists on Phone Offline:
Open Spotify.
Go to the "My Library" section and download the song you want.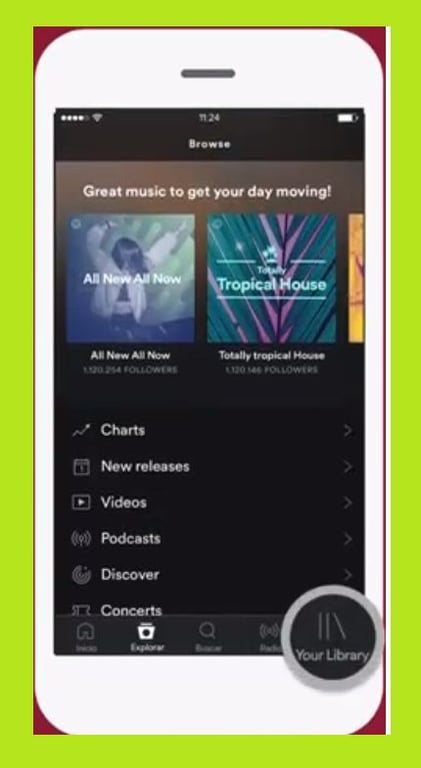 Activate the lever next to the "Download" option.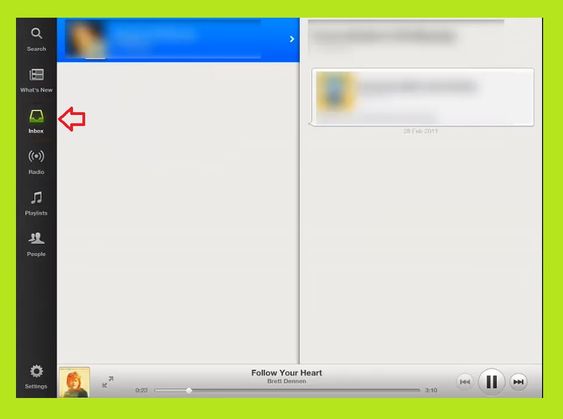 As in the previous method, a small green icon is displayed next to the downloaded songs. You can now listen to downloaded songs offline.
As we explained, by doing the above methods, you can use the offline feature of Spotify to listen to music. This feature is very useful when you are not connected to WiFi internet and using it you can store many songs offline.
How to Download Music on Spotify for Free
Method 2: Use a Secure Program to Download Spotify Songs, Albums, and Podcasts (For the Free and Premium Version)
This way you can download Spotify songs using a program like Sidify Music Converter. Just do the following steps:
First, run the Sidify Music Converter program.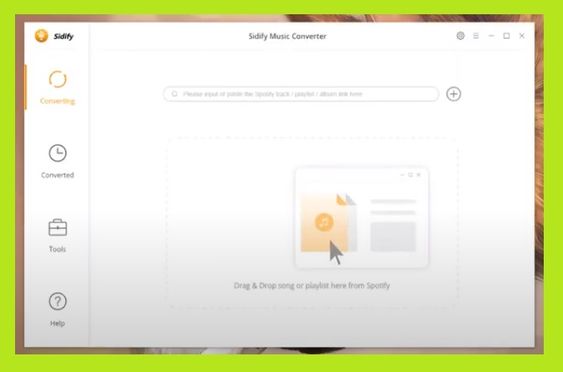 Add Spotify songs. (To do this, you need to copy the link of the desired songs from Spotify and enter it in the box like the picture below, and then click the Add button. You can also drag and drop your desired song to Sidify.)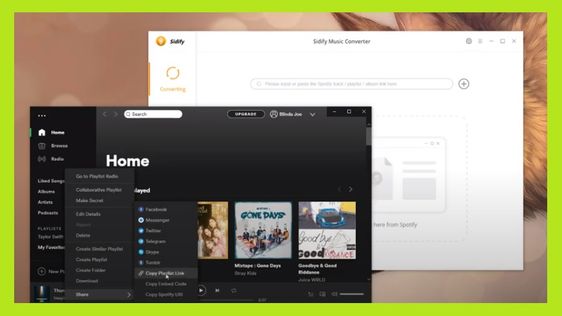 You can click on the Setting button in Sidify to set parameters such as output format (MP3, AAC, FLAC, or WAV), conversion mode, output quality (320kbps, 128kbps, 256kbps).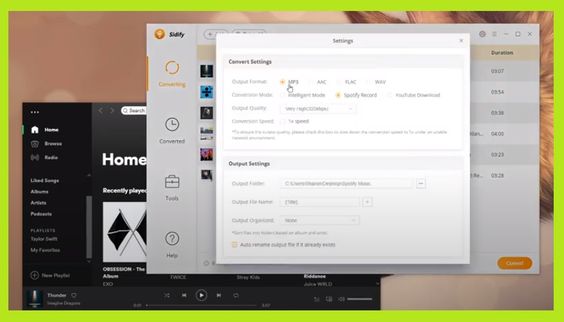 Press the "convert" to start downloading the song.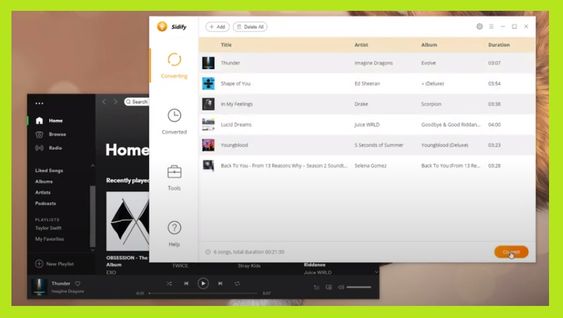 After downloading the song, you can click on the Converted tab and listen to the music offline.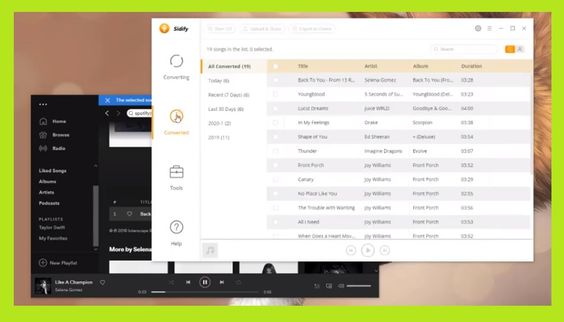 For More information about downloading music on Spotify, we recommend reading the How to Download Music Spotify article.
Listening to Music Offline on Spotify App
To download Spotify songs and listen to songs offline, you need to create a playlist and add some songs. If you do not have access to the Internet, this feature helps you access your favourite music without the Internet's need. You can use this wonderful feature by purchasing a Spotify subscription. To do this, follow these steps:
How to Listen Music on Spotify Offline
First, you have to join a premium account. Downloading songs for offline users is only possible if you have a special Spotify subscription. You must also be connected to WIFI to download Spotify songs. It is not possible to download the song through the mobile data network.
Open Spotify. Tap the Spotify app icon, which looks like three horizontal black lines with a green background. If you are logged in, the Spotify homepage will open.
If you are not logged in, click LOG IN, then enter your Spotify account email address and password.
Tap Your Library. This option is located in the lower right corner of the screen.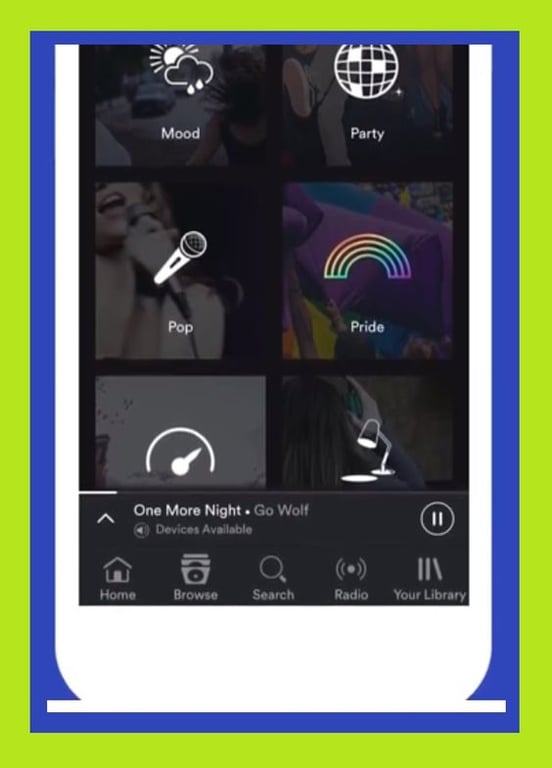 5. Tap Playlists. This option is located at the top of the screen (on iPhone) or in the middle of the screen (Android). It will open the Spotify playlist.
On this page, you can also select the Albums option.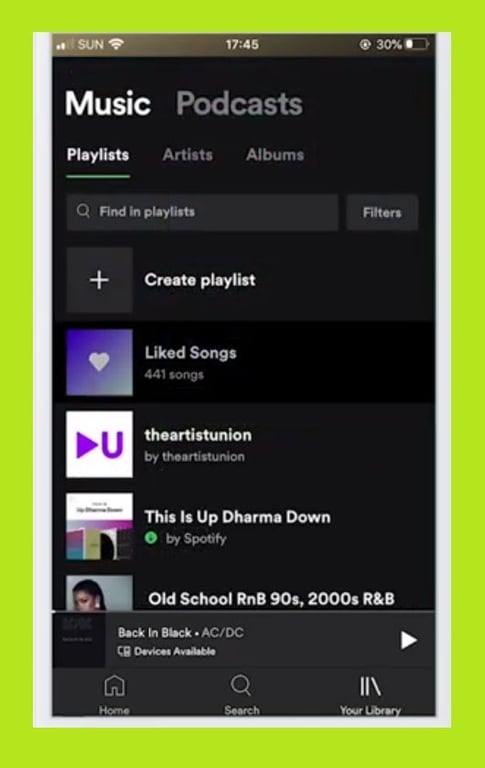 6. Select a playlist. On the "Playlists" page, tap the playlist that your favourite songs are in it.
If you open the Albums page instead, select an album.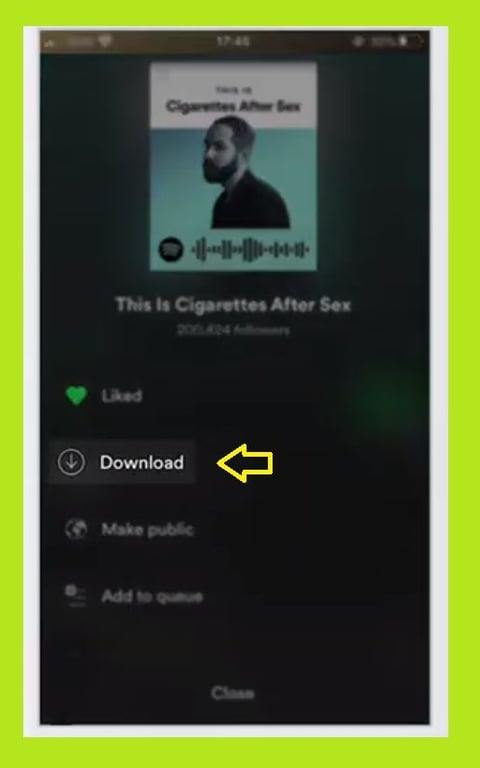 7. Click on the grey "Download" button. This button is located near the top right corner of the screen. It will bring up a green button indicating that the songs are being downloaded to the Spotify mobile app.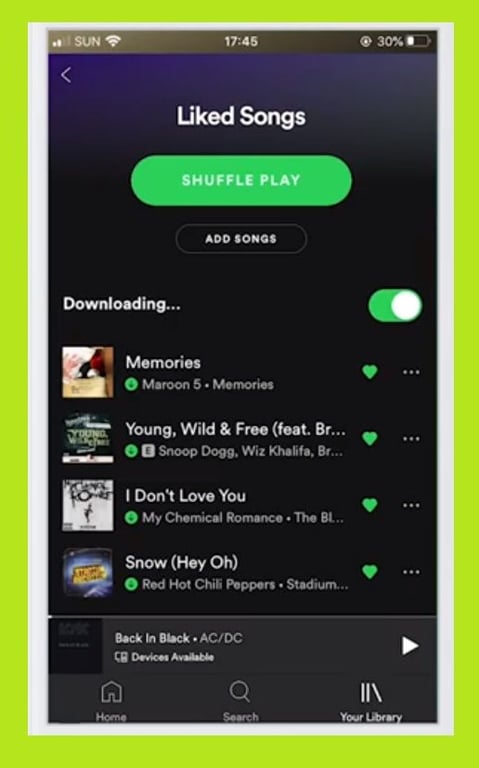 When the song download is complete, a down arrow appears to the right of it.
8. Activate the offline button from the playback section. You can now listen to Spotify songs offline. When you are not connected to the Internet, you can open Spotify, tap Your Library, go to the desired song, tap and listen to the song.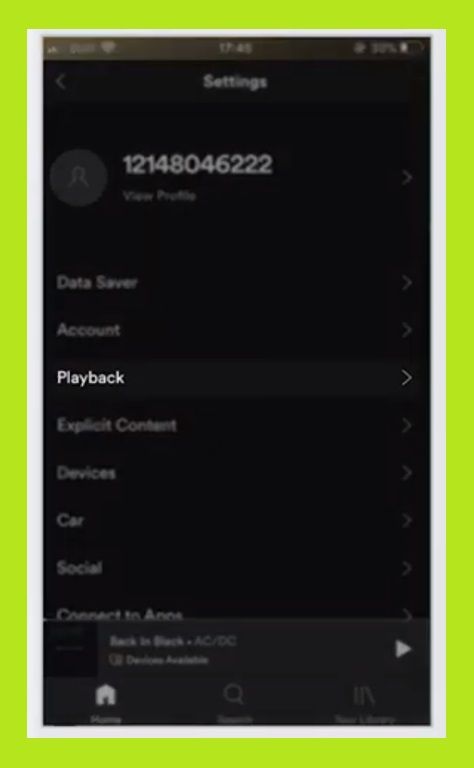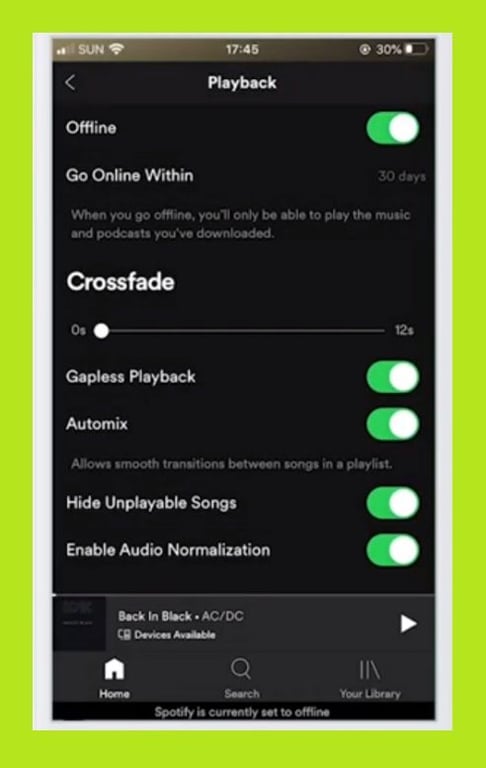 How Does Spotify App Work on iPhone?
Spotify service only allows you to download and save music through the app. The interesting thing about the free account of this application is that if you register in this program through your iPhone, you will be given a free account to download and play music for only one week. Still, if you register through Spotify, you will be given a free 30-day account instead of one week.
Previously, iPhone users needed to purchase a subscription to sign in to Spotify. They can now login for free and use the free version service, and access artists "shuffle play" but there are still restrictions.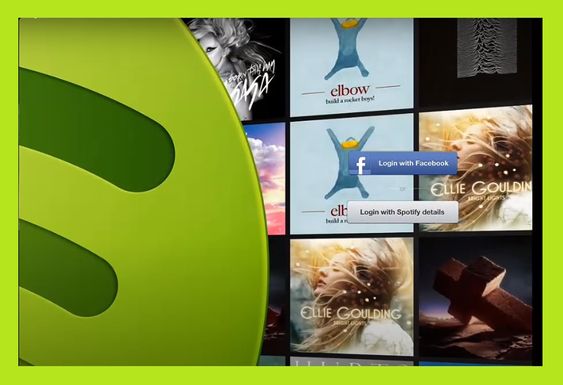 Working with Spotify on iPhone is easy; just follow these steps: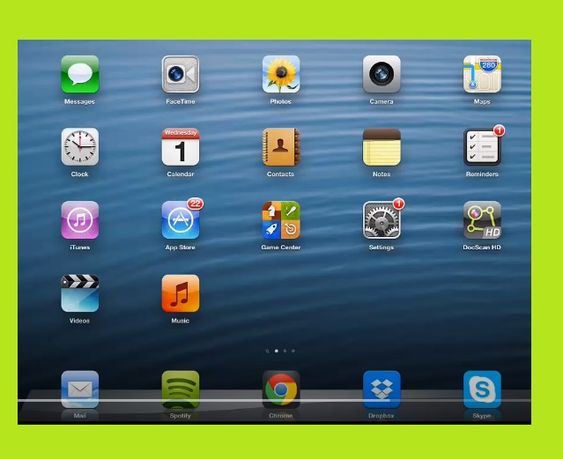 How to Work with Spotify on iPhone
Download and install Spotify from the App Store and log in.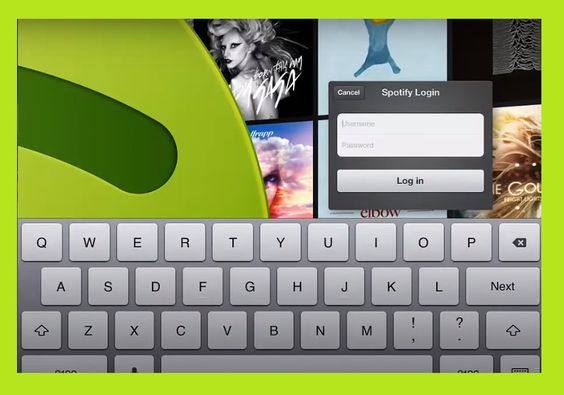 If you already have an account, it is better to log in with Facebook. This way you can find your friends and see what they are listening to.
Choose a subscription level for yourself. If you are new, you can try the free version of Spotify. However, by purchasing Spotify Premium, you can access more features of this program.
Working with Spotify iPhone is not very complicated. The more you work with this program, the easier it will be for you to work with it.
In the following, we have brought pictures of the environment of this software on the iPhone.
In this image, you can see the playlist, which consists of songs that you have already added to it.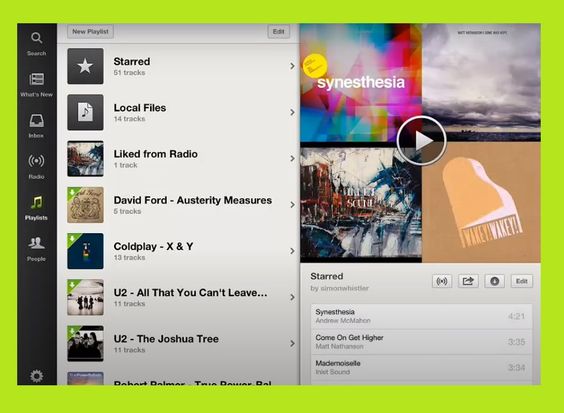 From this section, you can search and find your favourite music.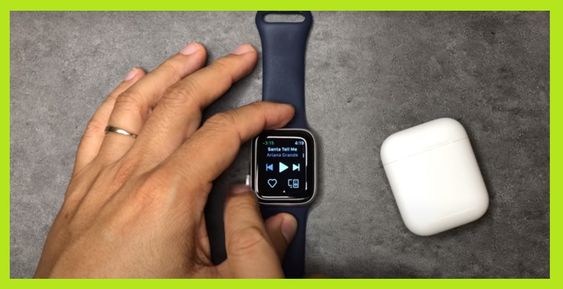 For example, as you can see in the image below, by searching Coldplay, you can see the artists, the albums and other information.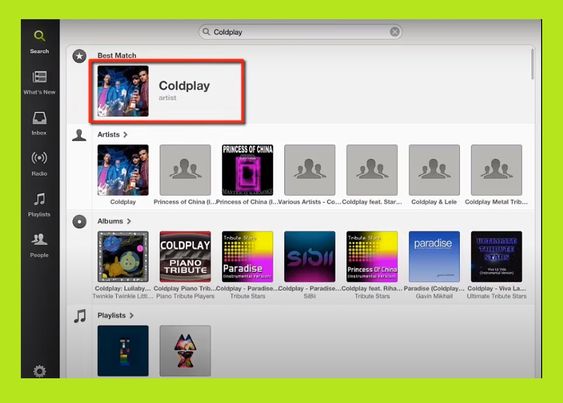 As you can see, you can add your favourite music to the playlist from the scientist section.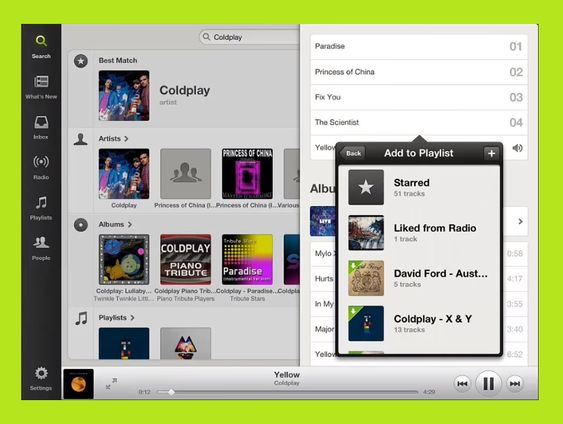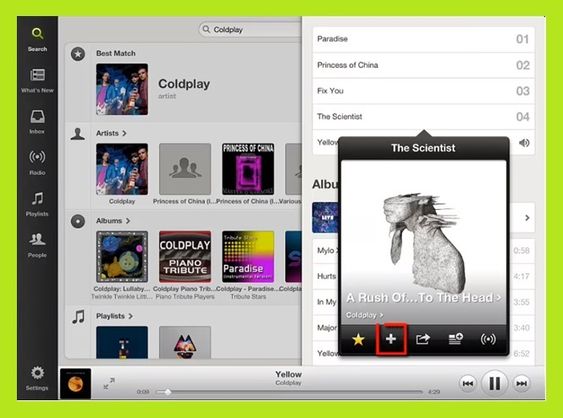 You can create a playlist of approximately 50 using the Radio feature.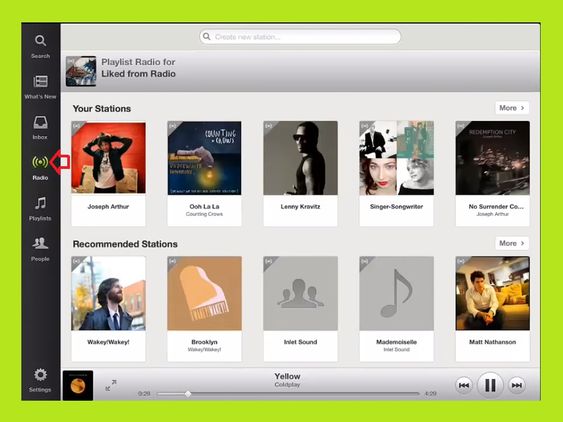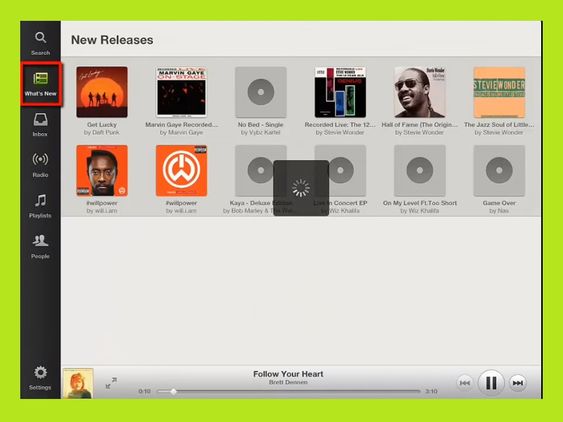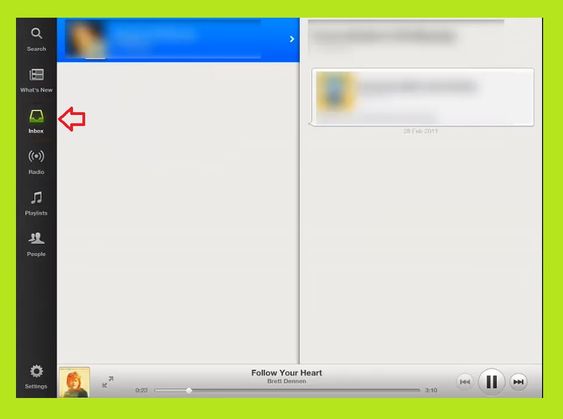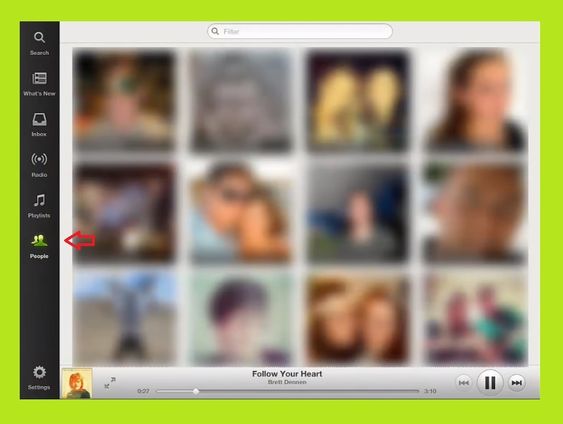 Does Spotify App Work on Apple Watch?
Working with Spotify for the Apple Watch is easy. You only need a few things:
An Apple Watch with a smartwatch operating system of 5 or higher.
An iPhone paired with an Apple Watch.
Spotify app (version 8.4.79 or higher) installed on iPhone.
A Spotify subscription that you can use to use this app on iPhone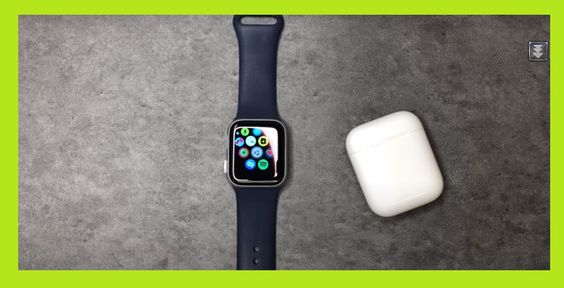 Once you've provided these, the Apple Watch Spotify app will be automatically installed on your smartwatch (remember, Apple Watch apps will be added to the smartwatch after being installed on the iPhone paired with the watch). If not, restart your iPhone to appear on your smartwatch.
The Spotify app on the Apple Watch works like a controller for the iPhone app. You can't select every song on Spotify to play on your smartwatch, and you can't control your library from your wrist. Instead, you can listen to recently played items in playlists or skip songs in playlists and go back.
1- When you open the Spotify app on the Apple Watch, you are taken directly to the controls screen. Tap Play / Pause to control playback.
Back and forth options allow you to scroll through the playlist or album.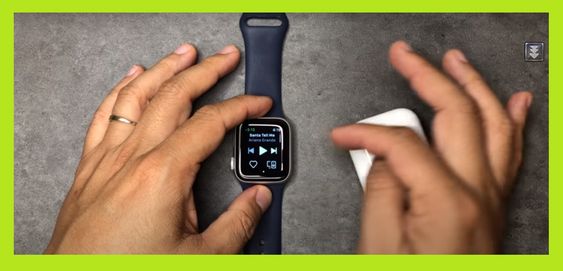 2- Swipe left and right to reveal the most recently played page. This page shows the most recently featured artists, albums, and playlists. Tap on one of them to play.
You can add each of the music's to your library by liking them.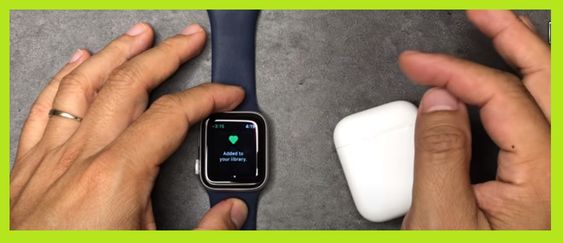 3- Slide the 'shuffle' to on / Green. Play the cluttered songs in the current artist, album, or playlist.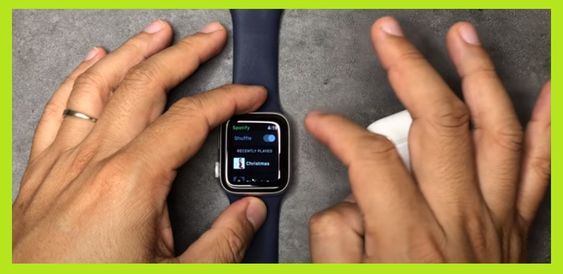 4- You can control the volume of Spotify playback from your smartwatch. All you have to do is move the digital crown of your watch back and forth.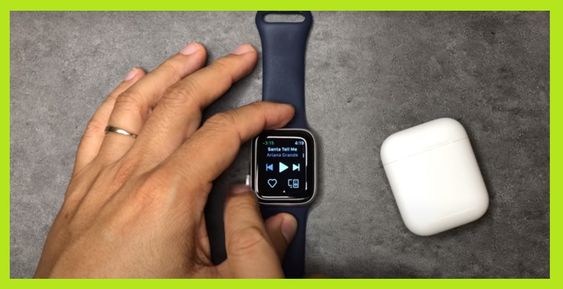 Why isn't My Spotify App Working?
You may encounter problems when working with Spotify. Here are some common problems with Spotify and how to solve them:
You have bought the premium version of Spotify, but you cannot use its features:
Sign out of your account and sign in again. Be sure to try this method as it syncs information between your device and the Spotify account.
Sometimes Spotify does not work because your monthly subscription may have expired. In this case, you need to renew it.
If the problem is not resolved, refer to the payment status section on Spotify. If it is "suspended," the payment may not have been successful, which is the cause of the problem.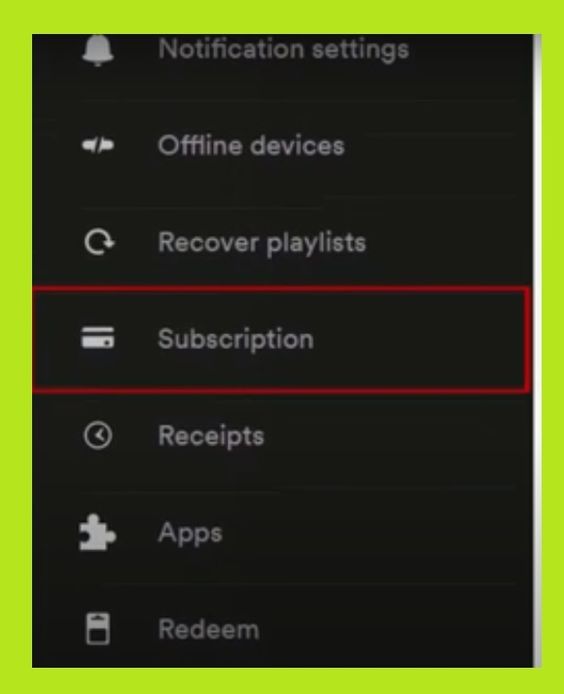 Check that your Premium account is not in another account.
If you purchased a Premium account using an intermediary, make sure they did not deactivate your account.
Spotify Could Not Be Started: Error Code 17
This is one of the problems that Windows Spotify users still face.
When you launch Spotify, a pop-up appears on the screen.
To solve it:
Download Spotify installer.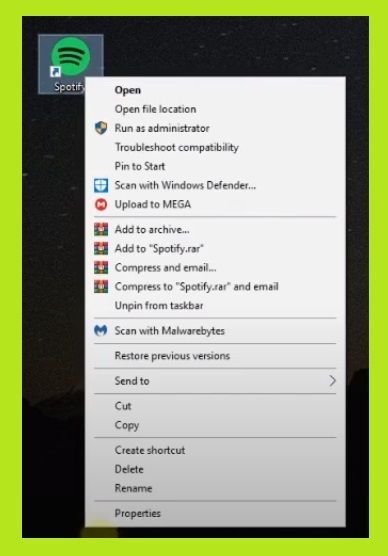 From the Properties section, enter the Compatibility tab.
Then run this program in compatibility mode and press the Apply button.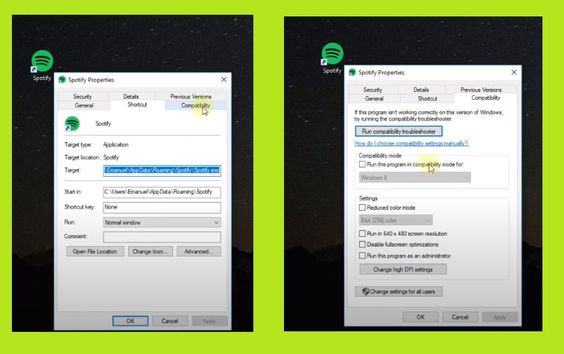 It is not Possible to Add Local Files to the Spotify Playlist:
In the new version of Spotify, the way Windows Music Local Services is managed has changed, and users mistakenly think that it is broken. To fix this,
Go to Edit (Windows) or Spotify (Mac)> Preferences> Local Files.
Then ask Spotify to search for your iTunes or Music Library files or place them in the direction of your saved music.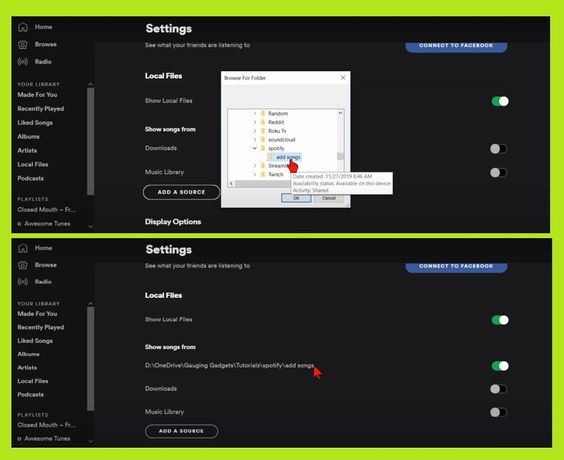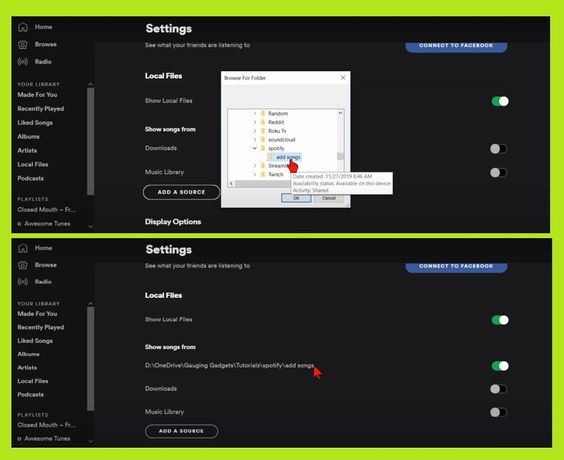 Songs Cannot be Downloaded for Offline Playback
One of Spotify's features is the download of songs for offline playback. There is a limit to this feature, and you can download up to 10,000 songs to listen to offline. Once you reach this point, you can no longer download music. To fix it,
you can delete some of your offline music from clear downloads or delete cache.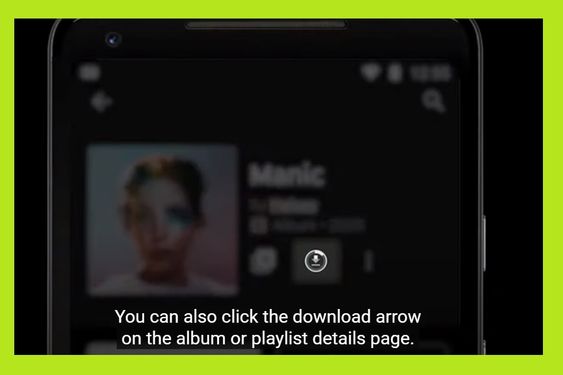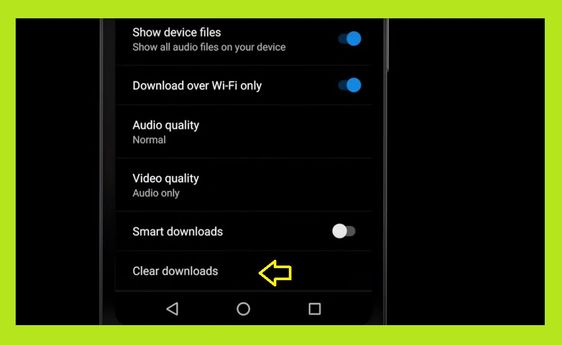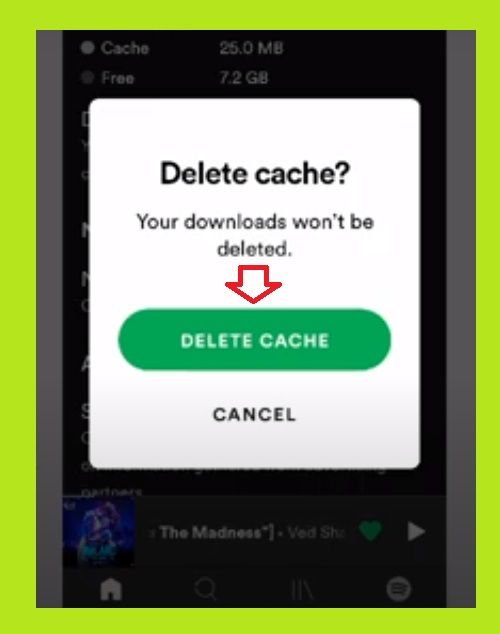 No Sound When Playing Music
This problem in Windows usually occurs when the device is muted or a misconfigured line out. To fix it,
Press the volume icon in the system tray and then select Volume Mixer.
Hold the "Option" and then click the "speaker".
On Android or iOS, clean the headphone jack with compressed air to fix the problem.
You can find useful information about Spotify working tips on Whathifi and Pcmag website too.
Working with Spotify for Artists
One of the new features of Spotify is that independent artists can upload their music to this online music service. This feature allows independent artists to control the music streaming process without paying for third-party services and licenses.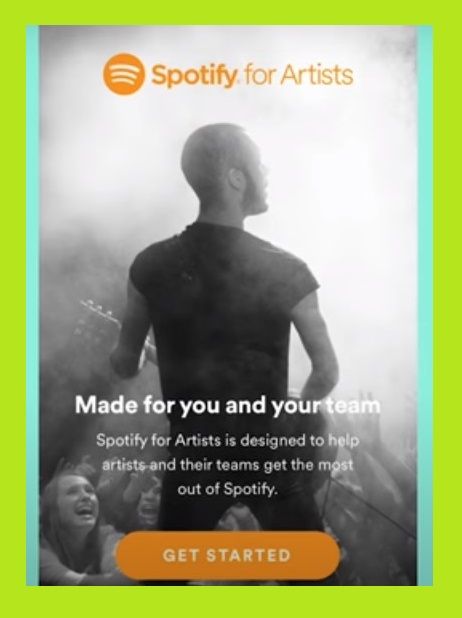 With the ability to upload, the artist can now share his music on Spotify with just a few clicks. Creating an upload option on Spotify means that if an artist who respects copyright and does not have a contract with a label, he can easily become a star if his work's quality is high and attracts positive feedback from Spotify users.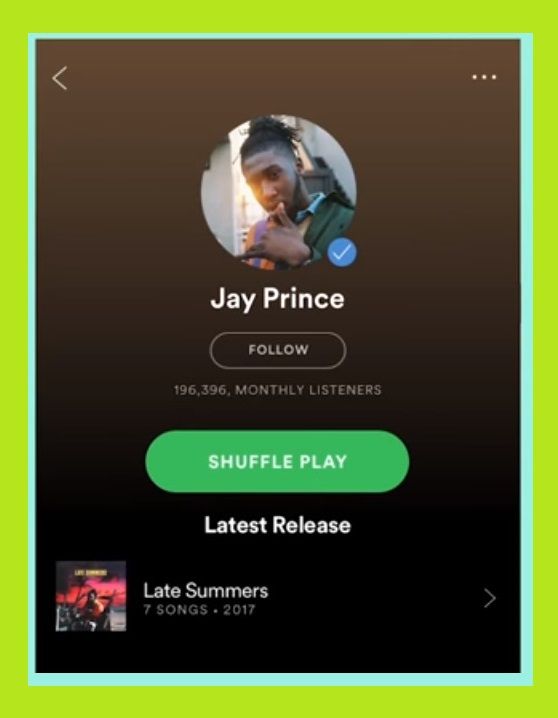 With this new feature, the artist can see all the changes made before creating the work (create a preview feature) and make changes if necessary. The artist can also choose the days when he wants to play his music live from Spotify.
The company also pays the artists so that the amounts related to the uploaded music and their royalties will be transferred to the artists' bank account every month.
On the artists' dashboard page, you can see details such as the amount of money the song has generated and the estimated time it takes for the artist to earn money from his song.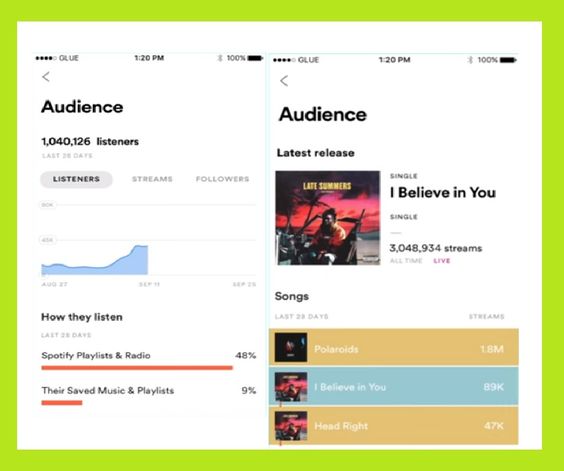 Uploading is free, and Spotify does not charge any fees. Spotify pays 50% of the artist's song online revenue directly to him. Music publishers and collection owners are also paid extra royalties. So if artists are directly and indirectly contacted with Spotify, their income will increase significantly.
Conclusion
Spotify is one of the fastest-growing music platforms on the web. You can listen to your favourites on Spotify online or offline. Spotify also gives independent artists the chance to publish their songs and make money from this app.
If you want to listen to your favourite music offline or share your account with your friends or family members, you can purchase a Spotify premium account to enjoy the additional features that Spotify offers to its premium users.
You can listen to your desired music by installing Spotify on different devices such as Android, iPhone, or Apple Watch.
Finally, Spotify is a useful app that lets you stream or download music and listen to music offline, and gives you access to a huge variety of songs no matter where you are.
.